Welcome To #OMHGFF Each week you stop by and linkup your posts and I try and share new blogs to highlight their good work, like this week–recipes, back to school ideas to get you back in the school groove, we have some wonderful recipes of delicious desserts and homemade recipes to avoid take-out and home ideas, like paper-artificial flowers.
⇓ BUT STOP BEFORE YOU GO FURTHER I WANTED TO SHARE THIS LINK ⇓
This is a Public Service Announcement I wanted to share.
Click & Watch ⇒Protect Your Everyday • "See Something Say Something"
Do you have a bucket list for fall, share with us in comments..
Hope You Will Enjoy Our Features Today!!
I also host a Wordless Wednesday? Hope you will stop by next week
"Wonderful Wednesday 8/9"
Our Party fills up with great recipes, reviews ,
crafts, home decor, fashion posts, jewelry, paper crafts and yes, Linky Parties and Giveaways.
So be sure to come back by on Tuesday and add all your special links. 
Grab My Banner In The Sidebar⇒
 ~♥~ Please Follow Me on Oh My Heartsie Girl ~♥~
Pinterest
Hope you will join Me on One of My Social Media This Week ♥ 
Subscribe To My YouTube Here 
TWITTER | FACEBOOK | GOOGLE+ | BLOGLOVIN | Follow
 
It would mean a lot if you Grab Our Friday Feature Banner or place a link back on the post you share. ⇒
Subscribe To My YouTube Here 
And if you were featured you can grab our NEW Featured Banner Here 

Ky's Bedroom Reveal-Penny's Victorian Home ( RePin It )
Penny is a busy lady always changing things in her home to refresh rooms.
This reveal is wonderful, I love the quilt on the bed, reminds me of my grandmothers quilting days.


3 Easy Take Away Foods You Can Make At Home-Katherine's Corner ( RePin It )
Im always looking for ways to avoid take out food and Katherine as just shared some great recipes to make at home, and
they look delicious and much better for us by knowing what goes in the foods we eat.


Pretty Paper Plants-Hearth and Made ( RePin It )
Now this is something we could all make for our homes, made with copy paper, painting and then cutting into artificial flowers.
They are so cute and could be fun to take. Claire has the tutorial on the link above.


Mini Summer Berry Galettes Recipe-Home Cooking Memories ( RePin It )
We are coming to the end of summer and I am feeling like baking and this Galette look wonderful for a fall treat.
Made with fresh berries that are available in stores now and most are on sale. Find this recipe and more on link above.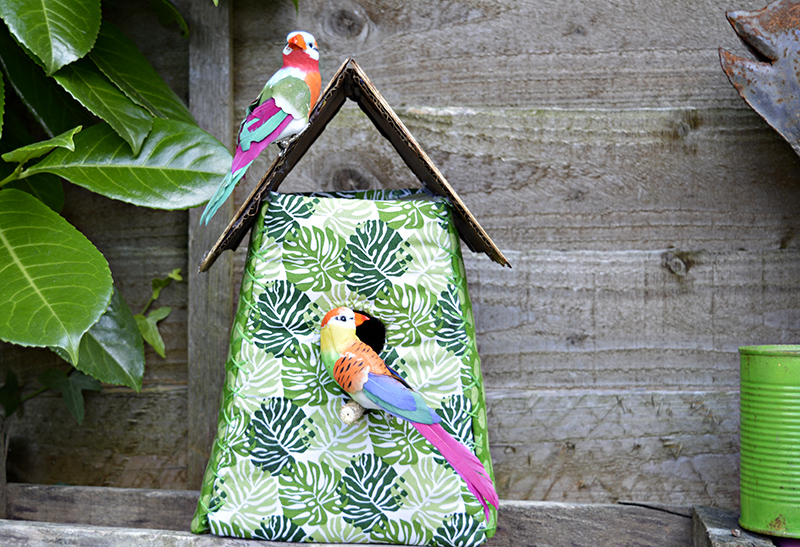 Make your own Gorgeous Tropical Fabric Birdhouse Decoration-Pillar Box Blue
Oh…How…Cute…This..
( RePin It )
Is made with tropical fabric, what a great way to add a bit of tropical and she has all the details.


Chocolate Pumpkin Fudge-Winnish ( RePin It )
This is a delectable dessert made with layers of fresh pumpkin which creates the bottom layer
topped with a layer of chocolate with marshmallow cream and topped with chopped cashews.


( RePin It )
Back-To-School Primer For Parents-Ramblings of a Bad Domestic Goddess
Since we are so close to back to school Elaine share ideas on how to survive getting back in sountines and spending quality time with your children

Chocolate Peanut Butter Cup Cookies-The Monday Box ( RePin It )
Here is another recipe from Wendy that is one of her famous packable recipes.
She shares recipes that she has developed for shipping to our soldiers, friends and families.
And these look amazing
Features Are Pinned-Tweeted and Shared To Facebook
So Now with Just a few Guideline for Friday's Party
~♥~ Add your Fashion posts, recipes, DIY projects, garden ideas, tablescapes, recipes,
fun repurposed projects – Anything that is Family Friendly Giveaways and Linky Parties, etc. 
♦ Leaving Me a Comment Is Appreciated
♦ Pin A Few With The PIN IT ~They will open in a new window.
♦ And I Do Hope That You Will Visit someone before "your" entry and make a new friend
To Get a Reminder About This Party Link Up, signup ⇒ Here 
Thank you for stopping by this week—–Now Lets Party—- 
How About A Google+ For The Party?
Here are a Few Parties to Get You Started
Create With Joy- Friendship Friday
Diy Vintage Chic- Friday's Five
Must Love Home – Friday Favorites
Olives-n-Okra – Funtastic Friday
Silly Baby – Friday Funday
Bloom Designs Online – Lovely Little Linky Party
Being A Wordsmith – Traffic Jam Weekend
Lovely Little Link Party
Social Butterfly Sunday Party
Traffic Jam Weekend Party
There are so many Parties I visit each week And The List Is Growing ⇒ Here
Something New If you Have a Giveaway  List It Here  And Check out the Giveaways!!