Welcome to A Wonderful Wednesday Linky Party!! We always get a head start each week and our Co-Hosts choose from the
previous week's links and we are featuring blogs from last weeks party and all our Co-Hosts too on week #188
We hope that you all enjoyed Christmas with your family and friends, there is nothing better than being with family to celebrate. I thoroughly enjoyed my time with my kid's grandkids and great-grandkids, it has been 23 years and that's a long time.
"Wishing you a happy, healthy New Year." "May the new year bless you with health, wealth and happiness."
"In the New Year, may your right hand always be stretched out in friendship, never in want."
And now we are ready for you to share with us your blog, plus Linky Parties & Giveaways are all welcome!
Please follow our Hostess and visit and comment, on some of the blogs that we are sharing!
We appreciate your visit today and if you are following us let us know in comments so we can follow you back!
❢❢
We would love if you would post our Party Banner or this » Link « on your site for others to enjoy the party each week!
And if you looking for something special from last week, you Can Still See See Them Here» Last Week Features ❢:❢
And Please Feel Free To Pin A Few Features From Original Source
❢ Be Notified When Our Parties Start Each Week Add Your Email Unsubscribe Anytime ❢:
[. .] 
♥ Karren Haller // Oh My Heartsie Girl
Maximize Your Beauty With These Lifestyle Adjustments
Twitter | Bloglovin | Facebook | Pinterest | Instagram
♥ Indah Nuria Savitri // My Purple World
Sambel Dadak Sambel Hejo Restaurant for Vintage Lovers
Twitter | Facebook | Pinterest | Instagram

♥ Clearissa Coward // Command Center
Three Piece Pump Bottle Set With Matching Tray
Twitter | Instagram | Facebook | Pinterest

♥ Alice V // DIYerfy
Setting Goals: What was accomplished in 2019
Twitter | Instagram  | Facebook | Pinterest
♥ Kaycee Mason
..Chicken Tortilla Soup: Warms You Up
Twitter | Instagram | Facebook | Pinterest
♥ Suzan White // Country Crafting
New Orleans Style Shrimp Creole Recipe
Twitter | Instagram | Facebook | Pinterest  
Feature Chosen by Karren // Oh My Heartsie Girl
The Painted Apron // Pancake-And-Sausage-Lasagna
A great mix of sweet and salty

Feature Chosen by Clearissa // Clearissa Command Center
Artful Homemaking // 19 Non-Alcoholic-Party-Drinks
Good drink ideas to bring in the New Year!

Priyam // Hand Cut Paper Ornaments
Beautiful handmade ornament ideas to tuck away for 2020

Feature Chosen by Karren // Oh My Heartsie Girl
Strength and Sunshine // Gluten-Free-Chocolate-Cherry-Cookies-Vegan-Allergy-Free
Starting the new year with different health choices, Gluten-Free is really easy to change up the way your bake goodies.

Feature Chosen by Alice // DIYerfy
DIYvibes // Scrabble Tile Framed Art
How cute the idea of using scrabble tiles to use a quote and frame, the possibilities are endless,
how about words to the side of kids pictures

Feature Chosen by Suzan White // Country Crafting
DIYvibes // Ribbon-Tree-Ornaments
You have to love the simplicity of these pretty ornaments, this one needs to be Pinned, so many possibilities for Christmas 2020.
From Shelbee On The Edge Fab-40's Dotted Robe And Matching Trousers
Dee of Dee Sayz completely rocking the pajama trend, Dee is so Hollywood glam in this stunning dotted robe and matching trousers. This dramatic combination in black and white may be an outfit, especially for a woman who doesn't wear prints.

Vanity and Me Style // A Festive Jumper and Meeting Furry Friends
Let's Talk About This Gorgeous Woolovers Jumper-festive But Still Wearable At Any Time


La Moumous // The 2020 Pantone Color of the Year Is Classic Blue
This could be a New Years' Eve fashion statement. Iris is wearing a Pantone 2020 color in Classic Blue what do you think of the delicate silver details of the lace overlay and the back?  She is wondering how the fashion industry will use this color.
Where I Party-There's More Here
Imag-in-ing // Create With Joy WW Linky // Be There 2 Day  // Mostly Blogging-Monday Inspiration
 Busy Monday // Hearth and Soul // Across The Blvd
If you click and make a purchase through an affiliate link,
I would make a bit of money. And these are some of my favorite picks this week.
This post may contain affiliate links, which means I might receive a small commission if you make a purchase using a link at no cost to you.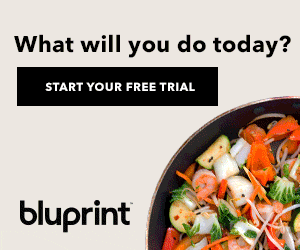 Shop 60% off Bluprint Exclusives!
Kick off your year on a creative note with 60% off 2 Bluprint-Exclusive items! Valid 1/1-1/6. Use code: NEWYEAR