As we move into the 77th 4th Of July this year in 2018.
And keeping in mind all that is going on in the USA this year with the political craziness, the unrest that we feel we can still be proud to live in America and to celebrate. That our US Congress declared the thirteen American colonies regarded themselves as a new nation, the United States of America, and no longer was a part of the British Empire. Independance Day was declared on on July 4, 1776, by the Continental Congress.
And as in any year, there will be parades, parties, family events, BBQ's and FIreworks, so lets not forget the reason we have and celebrate the 4th of July each year.
I wish you all a safe and fun 4th of July Celebration!!

All decked out in Red White and Blue for the 4th of July. I created these utensil holders for the celebration. Vegetable cans used with
red white and blue acrylic paints, then I applied hand cut stars on the blue can and sealed with decoupage. To finish I added string and some charms.
These could also be used for flowers as well in a centerpiece as well.
Next Week I will be sharing my fairy house I have been working on and some new jewelry!!
And now a Special Feature of some great crafts and desserts celebrating the 4th of July.
Also Featured on the 27th Week Of #OMHGWW This Week
Freedom's Price
Today we celebrate freedom
thanks to those who came before.
Those brave men who fought and died
in each and every war.
Freedom always comes at a price,
And while we celebrate
We should tip our hats to the heroes
who made our country great.
Source// The Living Guru
Are you feeling patriotic this year?

The Jenny Evolution // Blueberry Vanilla Ice Cream with Cream Cheese Frosting
Jenny has created an ice cream cake from a The Curious Creamery's Ice Cream Cake Mix. And does not require an ice cream machine. Poured into a springform pan, Frozen and topped with a tub of cream cheese frosting! Simply delicious!


Little Free Monkeys // Red White and Blue Patriotic Wreath under $5
Anika created this wreath using materials found at Joann's, red, whit and blue carnations and some other items she had on hand, I love the addition of the stars.

Living On Cloud Nine // Summer Cornet Dessert Andrea says these are made using buttery Dolce de Leche caramel flavored pizzelle cookie  piped with a  creamy vanilla cheesecake mousse, topped with berries and garnished with another piece of cookie.

OhMy–Creative Flag Mason Jar Candle Holder // I am a huge fan of Mason Jars and have a big board on Pinterest with over 1500 of my favorites with no duplicates.
Now….Susan has created this darling 4th of July Mason Jar using a already red tinted jar, wrapping a flag around and adding a candle inside, how fun for the evening of the 4th.


The Kittchen // Patriotic Cheesecake Parfaits
These little parfaits are made with lighter version of a cheesecake, with cream, mascarpone, whipped and added in layers with strawberries and blueberries, topped with whipped cream and garnished with another fresh berry!!  No-bake and can be made the day before.
Dont Miss Out On Another Post, Click the Banner and Signup-Opt out anytime.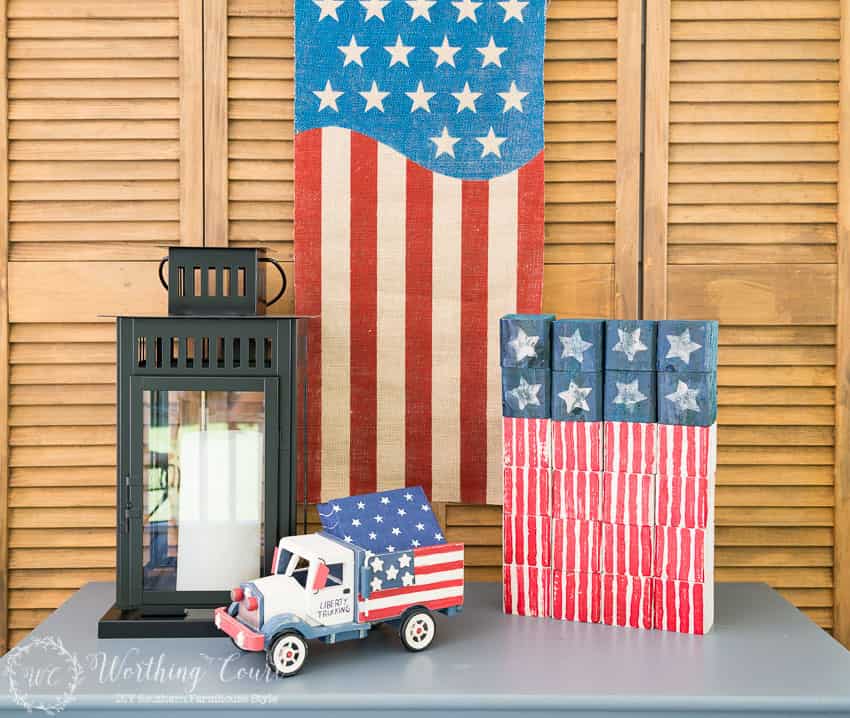 Worthington Court // Easy Vintage Americana USA Flag Painted Wood Blocks
Made with blocks of wood, painted with acrylic paints these are great by themselves or made to fit in a wooden crate.


Chemistry Cache // Patriotic Strawberry Cake Bites (DF and GF!)
After a white cake is made using round pans, ALexis used a round cookie cutter to make the cake bites, icing each one with vibrant blue icing and topped with fresh cut strawberries. These look easy to make a delicious to eat!!!
The Lou Lou Girls // DIY Patriotic Flag
This American flag is made using "ping pong balls' spray painted and put into a frame. You could repurpose an old chalk board or frame. She created the stars with chalk. What a great flag to celebrate the 4th of July!


The Scrape Shoppe // Mason Jar Sign
To make the Mason Jar sign, Michelle used red and blue vinyl and a mason jar frame from Joanns. You will find all the direction over at The Scrape Shoppe.


Home Cooking Memories // 4th of July Marshmallow Pinwheels
Brandi created these Marshmallow Pinwheels using  used Strawberry  JELL-O and Berry Blue JELL-O, made with miniature marshmallows. Once each flavor is set, they are then turned on top of the other, then out onto plastic wrap and cut in strips and rolled up and insert a small 4″ lollipop stick.
Hope that you enjoyed the 4th of July Crafts and Desserts, if you have a favorite your would like to share, leave it in a comment, I will come and visit.
And dont Forget To Stop By Oh My Heartsie Weekly Parties
Wonderful Wednesday June 28th 2016
~♥~ Please Also Follow Karren Oh My Heartsie Girl ~♥~
Pinterest
TWITTER | FACEBOOK | GOOGLE+ | BLOGLOVIN | INSTAGRAM

Follow