I join Create With Joy this week to bring you Wordless posts
 we would love to 
see those pics and your blog special blog posts you would like to share.
We all love comments and are Very Much Appreciated, I will do the same please
 🙂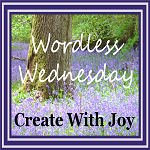 To participate link directly to the post you would like to share and then visit the othersin the linky to find new bloggy friends. Spreading the word about Digger's party youcan grab the linky in the sidebar. And it would e awesome if you would share this postto your favorite social media to tell the bloggy universe about our weekly party.
Google+ Comments