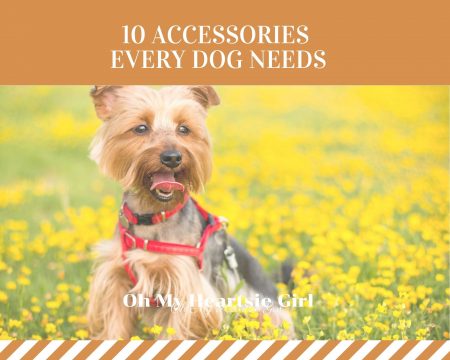 Dogs are more than just pets — they serve as best friends, even children, to their human companions. It is totally understandable why you want to give your canine friend toys and accessories that will keep him safe and entertained. The list below includes some of the products that your dog will need. From safety gear to cute furnishings, you are sure to find cool new stuff that your dog will love.
GPS tracker clips
Losing track of a pet is a dog-lover's nightmare. It can be unnerving and panic-inducing if you fail to find your dog after a few minutes of searching. You can avoid unnecessary grief by attaching a GPS tracker clip to your dog's collar. This device shows the location of your dog through your smartphone, allowing you to quickly and easily locate his whereabouts.
Martingale collar
It is advised that you use Martingale dog collars if you need to train your dog to walk with a leash. This particular collar design features 2 loops of webbing that tighten and apply equal pressure on the neck when pulled. It trains your dog not to pull, but it also does not choke the dog or damage its trachea — unlike traditional collars.
Water fountain
This simple device ensures your dog is hydrated any time of the day. Place it in your garden or backyard or anywhere your dog loves to play in. When your dog is thirsty, he'll just come to the pedal and press it to drink — fresh water on demand!
Dog umbrella
Don't let rain get in the way of an exhilarating walk with your pet. Make sure he's ready to hit the streets regardless of the weather by giving him a dog umbrella. This cute umbrella is attached to the leash, allowing your dog to walk in the rain without getting soaked.
Dog treadmill
You may be intent on walking your dog every day, but the season can prevent you from doing that. If it's too hot or too cold for a walk, you can exercise your dog using a dog treadmill. This device is made for dogs of all sizes and it can keep your dog busy and entertained without ever needing to step outside your house.
Litter box
No, a litter box is not only for cats. This patch of grass can be used by your dog anywhere around your house. It lasts for a week and it can be thrown out easily, thanks to its cardboard box bottom.
Lights or reflectors
Keep your dog safe when you walk or run at night by using reflective collars or vests. Alternatively, you can purchase a LED light clip-on and attach it to your dog's collar. This way, you and the people you share the road or park with can easily spot your dog in the dark.
Paw wax
Show your dog some love and massage his paws using a paw wax. This product is not just for relaxation, though! The wax adds another layer of protection for the feet, acting like a pair of booties that keep your dog comfortable when walking on ice, sand, salt, or concrete.
Dog mansion
Your dog can live the high life inside a luxury dog house. These high-end mansions are made to order and built using really tough wood and glass. Imagine all the cute photos that you can take with your dog in his grandiose home.
Bamboo hammock dog bed
Give your dog a nice hammock dog bed to retire and relax into after hours of running and playing. This high quality bamboo hammock is comfortable and comes with a stain resistant suede cushion that's guaranteed to give your pet unlimited hours of good sleep.
There are a lot of options in the market today if you feel like indulging your dog. Adding these items to your home will not only give your dog a one-of-a-kind experience, it will also make the time you spend with your pet more memorable. Which of these items will your furry companion enjoy best?
Related:
Finding Out The Reasons Behind Your Dog And Their Unusual Panting
Teaching A New Dog Old Tricks: Tried and True Cleaning Tips From Days Gone By