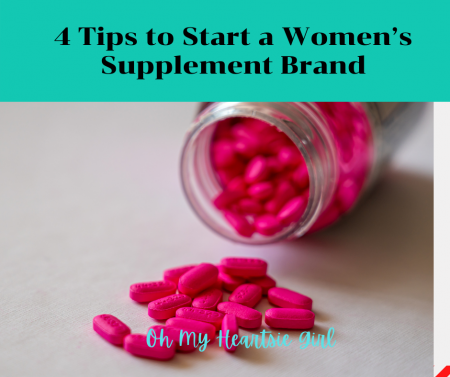 If you're the type of gal who can't go a day without her supplements or nurtures a passion for organics, the thought of creating your own brand of supplements may have crossed your mind. You may have decided that it's too much work and brushed off the idea. Well, it's not! Starting a women's supplement brand is pretty easy when you have experts to guide you along the way. Keep reading to learn the steps that'll lead you to successful brainstorming and branding.
1. Be authentic, but keep an eye on the market.
How many whey protein shake brands are available on the market today? It's hard to even count. But that's because they sell well and people love them. Of course, that doesn't mean you should stick to something that already exists or go for a supplement that's never been seen. There's a sweet spot there. To find it, you should think of something people already know and love, and give it your own twist. Maybe add one extra ingredient (if it makes sense in the formula) and make sure to mention it on the front of the bottle. For example, there are whey protein powders, and then there are whey protein powders sweetened with stevia. For those who can't stand the raw taste of these supplements, this simple addition is golden. Find yourself an authentic and marketable idea at the same time!
2. Be selective about your manufacturer
How well do you know that manufacturing company? Have you done enough background research on them? If not, you should. This isn't only a matter of obtaining a good quote. It's also a matter of choosing a company that relies on a safe process from manufacturing and packaging to order fulfillment.
Let's use supplement industry leader, Makers Nutrition, as an example. Makers Nutrition is a custom manufacturer, meaning you can choose your preferred formats (softgels, gummies, powders, tablets, or capsules), ingredients and packaging solutions to create a trusted supplement brand that's fully unique. Plus, the Makers Nutrition team has years of industry expertise, on top of impeccable customer service.
You really shouldn't expect any less than that from any manufacturer. Great questions to ask before hiring are:
Are their supplements FDA-approved?
Is it a cGMP company (meaning it's compliant with the Current Good Manufacturing Practices)?
Will they cover my fulfillment needs?
Choosing the right company will guarantee the peace of mind that everything is taken care of, including distribution, fulfillment services, and packaging.
3. Invest in an eye-grabbing label.
Outstanding graphic design goes a long way, but not for the reasons you think. Sure, all brands need an amazing logo with typography and colors that represent the product. But what makes packaging really stand out is the information it contains. The product benefits should be stated in an innovative fashion, and the warnings should be visible. The packaging should be both a tactile and visual experience for your customer. In short, it pays to ensure that your graphic designers are updated about current FDA labeling regulations.
4. Know exactly where (and how) to sell your supplements.
Here's the greatest reason why it's crucial to know your brand and customers like the back of your hand. You'll need this in-depth background to figure out the best platform on which to sell your merchandise. You need to decide between investing in e-commerce sites, brick-and-mortar stores, paid advertising, and social media shops, among others.
To make this decision, you need to know where your audience looks for your products. Also, the tone and feel of your website or your sales personality should match your brand from top to bottom. For example, if your brand is considered a "boutique" brand and you're selling it at a brick-and-mortar store, looks matter—so be ready to dress the part. It makes sense to wear flattering, wrinkle-resistant blouses and skirts. Prefer women's no iron shirts, since they'll look much classier on you, including the bonus of not having to iron them ever.
Conversely, if you're selling women's fitness supplements, it makes sense to wear athleisure or fitness apparel. If your product is dedicated to hair growth, make sure to post enough informational content about haircare to keep prospective clients interested in your product on a daily basis.
For someone who's just starting out, all this information might be overwhelming. Still, this is the foundation you need to create a supplement brand that will both sell and turn your customers' lives around. All you need is the right approach and the right people.
[….]
The Ultimate Guide to Managing an Instagram Account for a Fashion Brand
Marketing Strategy for Trade Shows
This post may contain affiliate links and I might receive compensation if you make a purchase after clicking on a link.