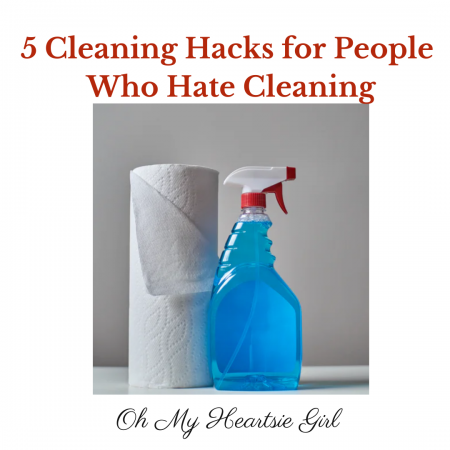 Cleaning isn't exactly the most exciting thing in the world is it?
When you've had a long day at work, the last thing you want is to get home and whip the vacuum cleaner out. However, we all want a home that's clean and hygienic.
Having a tidy home isn't just good for your health, it's great for you too. Clutter and mess cause us to feel more stressed out. It reminds us of the things that we're not doing and makes us feel guilty, so we can't truly relax.
So, how do you find the right balance between getting on top of your cleaning, and still finding time to have a life?
It's not as tough as you think, simply making a few basic changes to your cleaning routine can help to take the stress out of your chores. Visit clean4less – cheap cleaning supplies for the cheapest cleaning supplies available in the market.
Our Friends at Easyway Maid Service, who provide cleaning service in Austin share some of their best tips on a few hacks you can implement even though you might despise cleaning.
1.     Have a Clutter Basket
The first thing you'll need to do when you start cleaning is to get rid of any trash left around the home. That means that you'll probably have a trash bag in one hand, but in the other, find a basket or something similar that you can put small things without a home into. Spare batteries, scotch tape, and other things that you're not using, but don't know where to put can go into that basket for now.
While you'll need to find a more permanent home for the things in your clutter basket eventually, it will help to clear up some much-needed space while you're tidying in the meantime. What's more, you may find it easier to track down the things you need in the future too.
2.     Know Where All your Supplies are
One of the main things that make cleaning last longer is having to run around your home looking for bleach, or window spray when you need it. Rather than just leaving your cleaning supplies in the last room that you used them for, make sure that you have a tub full of must-haves in a specific place. This will make it easier to find everything you need as and when you want it.
Make sure that your "essentials" tub is stocked up with microfiber cloths, rubber gloves, and even green cleaning solutions that you've made yourself. Ensure that you add any items that you run out of during your cleaning spree to your shopping list as you go. This way you won't be left without the next time you reach for a sponge or spray.
3.     Do Ten Minutes at a Time
The more you ignore your cleaning ritual, the more things will start to build up. Eventually, it starts to feel as though you're doing a spring cleaning session every time you get to work on your home. To avoid exhausting cleaning habits, try keeping on top of the little things. Setting a timer on your phone for ten minutes of tidying per day is an excellent way to ensure that things don't get too out of hand.
You'd be amazed at how much you can do in those ten minutes. You might be able to put some clothes away, do the dishes, or even just clear up some clutter around certain rooms. If you have extra time in the day, you can always upgrade to two ten minute slots.
4.     Invest in an Upgrade
How much do you hate cleaning? Is your desire to avoid it enough to convince you that it might be worth buying some self-cleaning tools? For instance, there are plenty of robotic vacuums out there today that can keep on top of dust and grime without costing too much money. You can usually get a reasonably good one for $50 or less.
On the other hand, there are also self-cleaning bowl washes that clean your toilet bowl whenever you flush – those are pretty cheap too. Explore your options – even your cat can have it's own self-cleaning litter tray these days. You'll still need to do some things yourself, but there's nothing wrong with having help.
5.     Set a Ritual and Stick to It
Most importantly, if you want to get on top of your cleaning, the best thing you can do is stick to a ritual. Write out a list of the tasks that you're going to do each day if you need to and start there. It's too easy to get overwhelmed when you decide to tackle everything all at once, and you've done no prior planning. Krafty Planner has one you can print 
A good way to make your ritual more appealing is to add a small reward to it. For instance, save that show, you've been waiting to watch on Netflix until after your big cleaning session. That way you can sit back, relax and enjoy yourself after a job well done.
Related:
7 Must Have Cleaning Tools and Products for Home
6 Tips To Clean Your Bedroom
5 Ultimate House Cleaning Tips For Every Homeowner
I might receive compensation if you make a purchase after clicking an affiliate link at no cost to you.