When you are young and energetic, you want to conquer everything. Whether it is your studies, your career, or the way you carry yourself. You just want to be at your best. At this point of life, everyone needs guidance, attention, and someone who they can trust with everything. Well, of all these, the most ignorant section is the guideline about how one needs to develop one's personality, the grooming from head to toe, and the advice that one should get at this point of life. So, there must be some kind of guide for youngsters, especially girls. As they normally do not have much exposure in their teenage years, therefore, it becomes important that they are given a direction to follow.
The given article is a very comprehensive guide for young girls to let them know about fashion and beauty. It will help them learn all about those things that can allow them to groom themselves. It will never be a difficult task for them as they only have to follow the instructions. This will cover the fashion styles they can adapt according to their age, the beauty hacks they need to know, and especially about the dressing sense. Although Ms Aphrodite is quite good to help them know about it, still there are certain things that must be elaborated for them.
So, stay with us, and learn all about it in detail.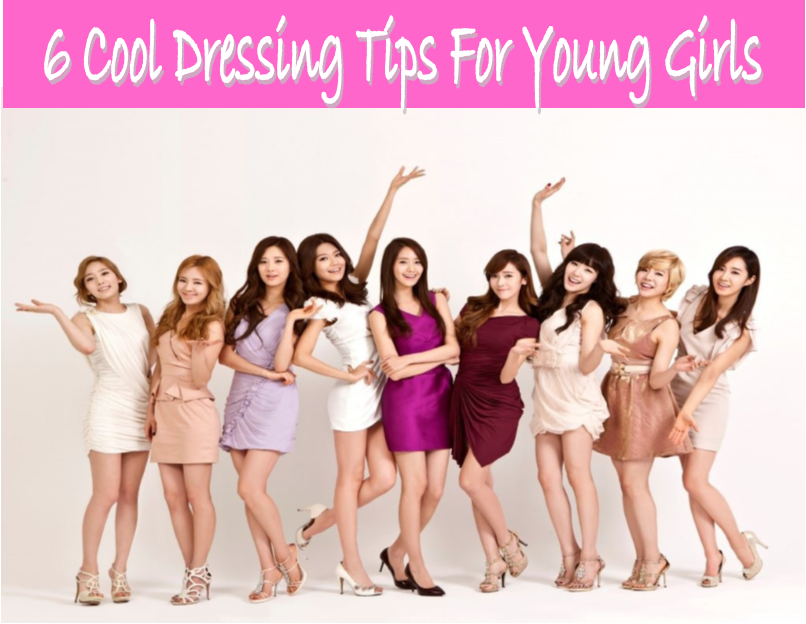 Forget About Trends
When you are young, you think that any fashion that is in the trend is what you have to follow at any cost. Well, that is not the case because you always have to pick and choose based on what looks best on you. You can never think of adopting anything that current fashion offers you. So, try to filter out by deciding what you like, and what suits you. Many times, what we like does not suit us, and what we dislike suits us the best. You have to keep in mind the fact that when you wear something, you should be comfortable in it.
The best advice for young girls is that they must have a mentor with them who can constantly guide them. The mentor is not necessarily a professional who trains and charge for the services. Also, at a young age, it is not possible to afford them. So, their mothers, elder sisters, and even friends could be of great help. So, this is very important that they find one such person in their life for this.
Colorful Layering
Well, when you are in young age years, you can wear any color. Most of the times, it suits young girls when they wear even sparkling and showy colors. It should be kept in mind that the color must be the one that suits the skin color and personality of the person wearing it. It should not look odd, and it should not be worn just because you think that young girls should wear colorful dresses. Colors look perfect, but not that you wear plain ones. There should be nice patterns and designs on them. Also, the layering of colors is very important.
By layering, we mean that the colors should be worn in a way that they do not look odd. The simple way out for this is to wear colored shirts with prints on them and add a colorful plan jacket over it. Similarly, the sneakers, joggers, or even slipper could be chosen in bright colors. They will look amazing with your dresses. So, just keep in mind that you have to look lively to look young. For that, you need to make a lot of effort, and in this way, you can do a lot in improving your overall look.
Chose Right Dress for Right Event and Place
It is more important to choose the right dress for the right event. The biggest problem many girls face is that they do not have the idea that what they are supposed to wear at a certain event. For instance, prom is coming, or girls formal dresses and you are looking for the dress for it.  If you end up buying sneakers and T-shirt with it, then definitely you are going to get funny remarks from others. However, you need to know that you are supposed to wear something fancy, sparkling, and classy for this event. It will neither look suitable for the event, but will also suit you automatically.
Other than this, sometimes one does not know at which place, which type of dressing is suitable. For instance, if traveling to one place to another, the type of dressing one should do must be very comfortable. You might be going for a picnic, and wearing long dresses would not be comfortable for you. So, these simple and small things must be kept in mind while choosing the dress for any event, or while going to any place. The grooming of this thing will help a lot in improvement in overall personality building later on in life.
Suitable Cut for Dress
This also an important point that the girl must understand to improve her personality. It should be the top most important thing in her mind whenever she is shopping for her dresses, and whenever she is going to attend any kind of event. It is never easy and simple to do this, but it can never be ignored because it all depends on this that how good you look at the end of the day. The main thing that you have to do is to keep in mind that what kind of body shape you have. According to that, you will decide which cut of the dress will suit you. Now, the reason why this point is so important is that when you choose the right dress for yourself, and then you wear it, and it looks pathetic. Why? Because it does not suit your body shape type. Even if it is very expensive, and the right color for your skin type, it will still not look nice on you just because it is not for the body shape you have.
Other than this, the body weight is very crucial. If you are very healthy and chubby, you cannot expect that fitting dresses will suit you. Also, the dresses with some designs would not suit your weight. So, you have to keep this one in mind also. It will help you a lot. The only thing you have to do is to be very simple in your choices, and never just go for what you like. Although that is important, that should be done only f that dress suits you.
Use of Suitable Accessories
Well, accessories are not included in dressing, but they play a very important role in the overall look of the dress. It is very important that a young girl understand the importance of this thing. Most of the ties, they try to overload themselves with every possible accessory. Also, in many cases, they try unsuitable accessories with wrong dresses. So, this should not happen if they want to look good, beautiful, and decent at the same time. This is a very crucial point because it can either ruin the look or can enhance it to a higher level that will make the dress even look great.
For instance, if the accessories are worn while wearing genes and cool t-shirts, then it will never look nice because both never go with each other. Although girls do wear, it always looks odd. Also, if the arms, neck, and ears are empty while wearing a shimmery, classical, and showy dress, then it will also look odd because those dresses demand accessories. So, it is concluded that the role of accessories is very important in the overall look of the dress, and it can have magical effects.  So, one should concentrate on it as a part of grooming.
Conclusion
Young girls are always looking for sources that they can get help from. They normally do not know how to carry themselves for different events. They end up wearing something weird and then get depressed when people mock them. So, the purpose of the current article was solely to help such young girls boost their confidence. They will have a direction, they will know what they are supposed to do, and they will be sure that they are choosing the right dress for the right place and event. While reading out the tips mentioned above and tricks, it must be very clear to them that it is not all about the dress that is important to groom a personality, it includes so many other things with it. It should be kept in mind that an overall personality grooming and awareness is very important.  So, one must do it at any cost possible at this stage of life. This will help I building confidence in one's self, and will help a girl grow into a dignified woman.
[…]
Related:
How to Wear Feminine and Fashionable Vintage Styles Like a Pro
This post may contain affiliate links and I might receive compensation if you make a purchase after clicking on a link.