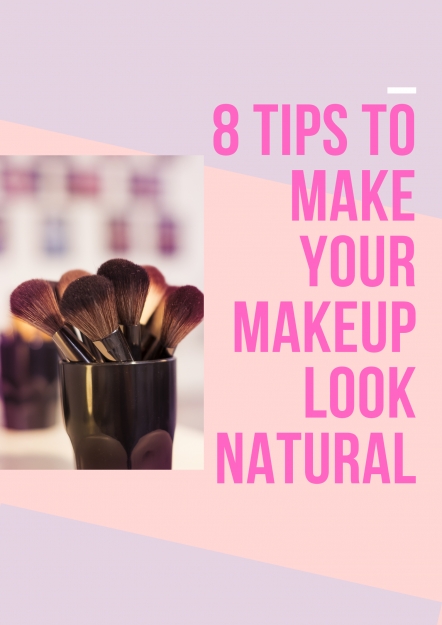 Makeup is often used to enhance the features on our face that already make us uniquely beautiful. It's not about turning ourselves into a different person, rather, it's about being ourselves with some of our best features put in the spotlight.
With that said, it's important for makeup users to know the ways to create a more natural look and bring out their best characteristics effectively. Below, we share 8 tips that can help you achieve a natural makeup look and make you feel your best.
1. Cleanse your face first.
Some people regard using makeup as a form of art. As such, a clean and flawless canvas is always better to work on. To make sure your makeup blends in easily and will not create visible caking, wash your face with a cleanser and then use a cloth to gently exfoliate and clear out spots and blackheads.
2. Keep your skin well-hydrated.
Aside from having clean skin, it's also good to apply moisturizers or hydrating products so the makeup can settle better. Hydrating your skin is also great for achieving that young, fresh look, and it may even have anti-aging benefits.
3. Choose a lipstick color that's a shade darker than your lips.
To effectively pull off a natural look for your lips, choose a natural lip color that's slightly darker than your own lips. Next, rub a finger on the bullet and then press it onto your lips. Stay within the outlines of your lips as much as possible. Remember, the goal is not to alter your appearance but to add a nice touch to the beautiful features that you already have.
4. Use a brow highlighter as an eyeliner.
This trick is relatively new in the scene yet highly effective. All you need is your favorite eyebrow highlighter, which you should use on your upper lash line. What you accomplish is a natural-looking nude hue that draws attention to your eyes and makes them look brighter and slightly bigger.
5. Use cream blush instead of blush powders.
As popular as blush powders are, cream blush products work better for that no-makeup makeup look. Consider a peach-colored blush cream and add them along the tops of your cheekbones, as well as down your nose and onto your Cupid's bow.
6. Opt for liquid foundations.
This is one of the easiest ways to get flawless yet natural-looking skin. Liquid foundations are also easier to apply, tend to be better to build on, and they subtly mimic the texture of your actual skin.
7. Use a face oil under your foundation.
If you want to look more 'glowing', use skin oil around your cheekbones, the center of your forehead, and down your nose bridge before you apply foundation. The effect may be subtle, but you'll have a more noticeable shimmer on the contours of your face, which helps highlight your natural features.
8. Brush your brows.
Your brows deserve a little care and maintenance, too. Get a cleaner look by brushing your brows up and into place with a brow gel that contains fibers. If possible, stick to a color for the brow gel that already matches your own brow color so your makeup looks more natural.
When it comes to achieving a natural look, less is always more.
This is advice that you'll hear from everyone, including professional makeup artists. Compared to other looks you can achieve with makeup, the natural look is by far the most attractive. Instead of using products to completely change your appearance, you're merely making your desirable features stand out. This is one great way of embracing your natural beauty and feeling more confident in your own skin.
Related Beauty Articles:
4 Important Routines For A Youthful And Glowing Skin
5 Best Makeup Products to Fake a Glowing Complexion
Five Great Beauty Products You Need In Your Lime Crime Makeup Bag
This post may contain automatically and manually added affiliate links,
which means I might receive a small commission if you make a purchase using a link at no extra cost to you.