Grillin' and Chillin':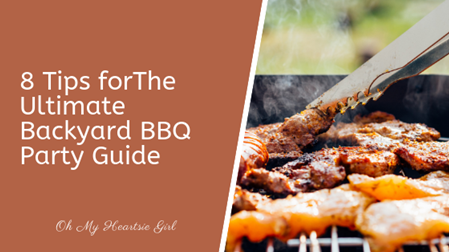 Spring has finally sprung, and you know what that means, right?
It's almost time to throw your first BBQ party of the season. After a long winter stuck inside, there's nothing better than spending a day outside grilling and chilling with some of your closest friends and family.
Before you host a backyard barbecue, though, it's important to plan out each and every aspect of it. It'll ensure that everyone has a great time when they show up at your house ready to eat.
Here is the ultimate backyard BBQ party guide.
Buy the Right Grill
Do you already have a grill in your backyard that you absolutely love?
If so, you don't need to worry about buying another one. But if your grill has seen better days or if it's just not large enough to cook food for everyone at your BBQ party, it's time to upgrade.
Whether you want to go with a gas grill or a charcoal grill, there are plenty of amazing grills out there for those who enjoy holding backyard barbecues. Pick up one that you like and spend a few nights cooking on it before your big party to get the hang of it.
Pick Up More Than Enough Food
You can buy the best grill in the world for your BBQ party. But if you don't have the best foods to cook on it, it won't do you much good.
There are so many different options that you can pick up for your party. Consider going with a wide selection that includes:
Hamburgers

Hot dogs

Steaks

BBQ Ribs

Chicken thighs

Sausages
This guide breaks down how to buy the best beef cuts for a BBQ. Consult it early and often before heading down to the butcher to pick up meats.
Don't forget to buy some options for those who don't eat meat, too! There are lots of delicious veggie burgers that would be an ideal choice for the vegetarians in your life.
Ask Guests to Bring Sides
Under normal circumstances, you might feel guilty about asking guests to bring sides to a party at your home. You're the host, after all, so you don't want to burden guests with having to bring anything.
But that all goes out the window when you're throwing a BBQ party. Most guests are more than happy to bring along a special side that they make specifically for backyard barbecues.
Ask guests to bring sides like:
Potato salad

Coleslaw

Pasta salad

Baked beans

Cornbread
You might also want to ask one of your guests to spring for rolls for hamburgers and hot dogs, too. This will guarantee that your party has more than enough food for everyone to enjoy.
Fill Up Coolers for Adults and Kids
Once you're confident that you have the food for your BBQ party covered, move on to drinks. This is another thing that you can ask your guests to help out with if you want.
Fill up at least one large cooler with beverages for adults. Offer a nice selection of beer, wine, and hard alcohol for those who want to make themselves a cocktail.
Fill up one large cooler with beverages for kids as well. Provide soft drinks, boxed juices, and other non-alcoholic options.
Consider setting up a third large cooler filled with bottled water, too. This will keep everyone at your party hydrated throughout the day and night.
Set Up Fun Games
You obviously can't have a BBQ without food and drinks. But you also can't have one without BBQ games. They'll keep everyone occupied and entertained.
Take a look at a few games that you should think about setting up throughout your backyard space:
Cornhole

Egg race

Bocce ball

Giant Jenga

Potato sack race
Adults and kids alike will have a blast while taking part in the BBQ games that you provide.
Crank Up the Tunes
Playing music at a BBQ party used to consist of plugging a radio in and letting it do its job. But you can do better than that in 2019!
If you have a lot of extra time on your hands, create a BBQ playlist from scratch featuring all your favourite songs. You can use music streaming services like Spotify to put together playlists featuring hits like:
"The Boys of Summer" by Don Henley

"Summertime" by DJ Jazzy Jeff and the Fresh Prince

"Summer Breeze" by Seals and Crofts

"Hot Fun in the Summertime" by Sly and the Family Stone

"Lovely Day" by Bill Withers
You can also set up a satellite radio if you have one and play music through it. Either way, you won't have to worry about commercials putting a damper on your party.
Make Plans to Do It Again
Don't let your first BBQ party of the season be your last one! Once it's over, start planning the next one and try to make each party better than the previous party.
Depending on where you live, you can usually have BBQ parties from April through October if you want. It'll give you lots of time to perfect the art of grilling and allow you to test out new foods as you move forward.
Send Out Invitations for Your BBQ Party Today
Are you in the process of planning out a BBQ party for your friends and family?
Go all out by investing in a great grill that'll make the most delicious food. Purchase the best meats money can buy, too, and make sure there will be plenty of sides to go along with them. And of course, make sure you send out invitations to everyone you want to invite well ahead of time so that people can plan to make it.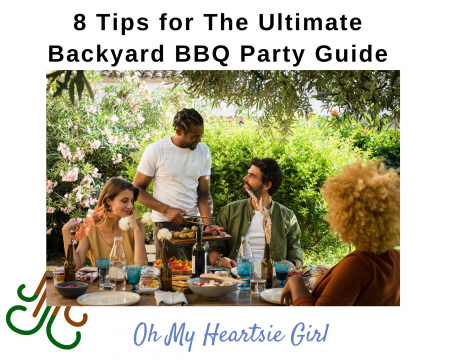 By using the guide we've provided here, you can throw a party for the ages. It'll make you want to throw more parties in the future and allow you to make the most of your grill. Best free online photo editor, collage maker and designer!
Check out our blog for more great tips on throwing a party without going over your budget.