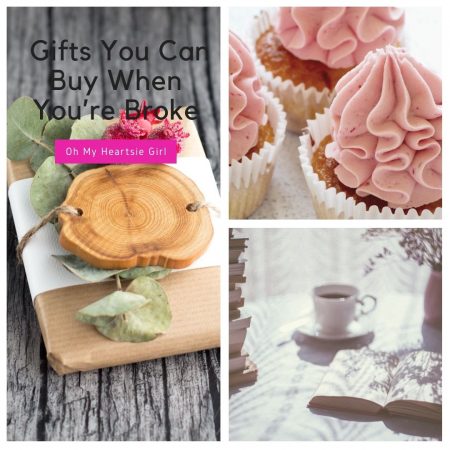 A bottle of champagne for a friend's birthday, an expensive towel set for a bride's wedding, show tickets for your parent's anniversary. If you have a fat bank account, gift-giving is easy. Figuring out what to do when you're broke, however, is a lot trickery. They say that it's the thought that counts but how can you express your thoughts without any cash?
Well, you're not the first person to be in this situation. If you want to give someone a gift but aren't sure if you can afford it, keep reading. Below, you'll find a few ideas that may help.
Baked Goods
If you can bake, you never have to spend more than $10 on a gift. People love homemade goodies. A gooey, chocolatey cake tastes better than an Oreo. You can even bake a delicious treat if you don't know how to cook. Boxed cake mix, for example, can be dressed up with colorful frosting and sprinkles.
Babysitting
Does the person that you're trying to treat have young children? If so, offer your services as a babysitter for a night. Most parents would love to get a night to themselves. Finding a reliable, affordable sitter, however, is a challenge. That's why this is such a great offer. The best part? You don't have to spend a dime.
Books
A good book is an invaluable find. Readers often appreciate receiving books from their loved ones. The gift offers an insight into your personality. You can either give your friend a book that you think they'll love, or you can give them a book that's deeply personal to you. There are books that define you. Sharing the experience with someone who you love can be very moving.
You should also consider the recipient's hobbies in order to truly do something personalized for them. For example, if they love to cook, you might give spiral-bound cookbooks from Spiralized Books, which makes it much easier for them to navigate recipes right from the kitchen.
Intimate Night
Are you trying to pick out a fun, sexy gift for your intimate partner? Buying sex toys might be your first choice if you have cash. If not, here's what you can do. Tea lights can be purchased for less than $5. You can buy cheap red fabric to throw over the lamps. Voila! Your room will instantly become sexier. If you can't afford massage oil, you can use coconut oil. You might already have it in your kitchen.
Paint
If you're a good artist, you're in luck. Personalized artwork is immensely valuable. A unique painting looks amazing in anyone's home. If you go this route, you only have to pay for the supplies and your own time. The more time that you're going to devote to the gift, the more special it is. A quick caricature might be appropriate for a coworker. A painstakingly created oil painting, meanwhile, is better suited for a romantic partner or close family member.
Freelance Websites
There are a ton of online platforms for artists and creators to sell their wares. Fiverr, Etsy, etc. You can find a gift that matches your budget if you get creative. For example, you can find someone on Fiverr who will make you a funny video for $5. It's a completely unique gift that will make your friend feel loved.
Homemade Soap
If you have time to spare, making homemade bathroom supplies can actually be pretty fun. You can create pretty, sweet-smelling soap without spending a lot of money on supplies. People appreciate the effort that goes into making homemade goods. That's why soap created by your own hands might be even more beloved than soap that came from a major chain store.
Time
Give someone the gift of your time. Dedicate the entire day to hanging out with them and doing things that they like. Watch the shows that they like on TV, eat their favorite fast food, and visit their favorite park. You don't need to spend money to have a good time. Pack a picnic lunch and a kite and spend an hour or two at the park. Let your friend know that the entire day is about them.
Alcohol
If your friend or partner is a drinker, you can give them alcohol as a gift. To make it affordable, arrange to have a drinking night at home. You can find a bottle of wine for $5. If you're drinking together, it's not about the quality of the alcohol, it's about the time spent together.
Giving gifts to people you love is one of the joys of life. It may be more difficult if you don't have money, but it's not impossible.
[…]
Unique Gifts for Every Passion
Gift Ideas That Are Out of This World How About a Star?
Did you know that if you signup with Rakuten, (aka eBates) you can earn cashback, I earned $34.96 in February? You can find almost any store you want to shop at online. #earncash #ad