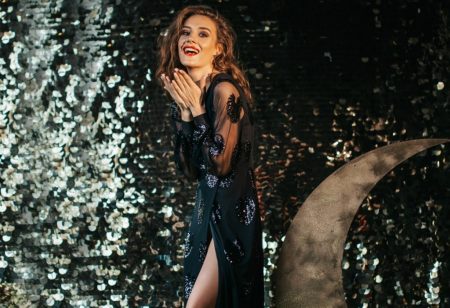 source
The holiday season is creeping upon us, and it's finally time to plan and perfect our fun and festive Christmas attire. Embracing the spirit of the season, the holidays are all about embellishments, glitter, glitz, and glam this year – nothing is off-limits, and 'more is more' seems to be the seasonal mantra. No matter where you've decided to celebrate Christmas this year, these festive outfits will have all eyes on you at every party you attend:
Sparkly bottoms
The holidays are the perfect time of year to wear something drenched in sequins and sparkles. So, feel free to choose a pair of high-waisted sequined trousers or a sparkly maxi skirt, to give the classic cocktail outfit fun and whimsical twist. To add some balance and symmetry to the look, pair these daring bottoms with an elegant turtleneck or a silk camisole in a neutral color, such as black or white, as well as a pair of high heels in the same color. Just don't forget to complete the outfit with some eye-catching jewelry pieces that will pull the whole look together.
Shimmer and shine
If you're a big fan of sequins and sparkles, then there's no reason why you shouldn't fully embrace them and go all out this holiday season. Instead of a simple bottom or a top, dare to wear a head-to-toe shimmery ensemble, as this is truly the only season when you can easily get away with such a bold outfit. Choose a sequined dress or even a sparkly jumpsuit, and then balance the lookout with a pair of nude heels and a clutch in the same shade. It can't hurt to let yourself shine every once in a while.
Upgraded everyday dress
Take yourself from a work desk to a Christmas party by strategically adding a few elegant and festive accessories to your everyday outfits. If you opt for beautiful party dresses in more casual, daytime styles, elevate the outfit with a sophisticated velvet blazer or even a sparkly cardigan, and then complete the look with a statement headband, a pair of fancy heels and some dainty jewelry, all in the same shade of gold or silver. When it comes to the holiday season, more actually is more, so don't be afraid to pile on the glamour. 
Tonal metallic sheen
Metallic shades are a big trend this season, and a perfect look to try out during the holidays. If you want to fully embrace the metallic sheen this Christmas, try pairing two different shades, such as a gold top and bronze trousers, to add more interest and dimension to your look. If you're aiming for a more subtle approach, however, pairing an all neutral ensemble with one metallic piece is the perfect way to make a statement, whether you opt for a gold skirt, a silver camisole or a bronze blazer. Simply complete the look with a pair of nude heels, and you're ready to hit the dance floor.
Velvet separates
Being a modern take on the classic tux, a black velvet blazer is a chic yet sexy piece that's ideal for elevating any party outfit. However, there's no reason why you shouldn't go a step further during the Christmas season and opt for beautiful velvet trousers as well, preferably in rich jewel tones, such as burgundy or forest green. Pair it with a festive top in a contrasting neutral color, and you'll have the perfect party outfit you'll undoubtedly fall in love with, and wear over and over again during the holidays.
The timeless option
When in doubt, you can never go wrong with that perfectly fitting little black dress – it's a classic piece for a good reason. Sleek, elegant and effortlessly stylish, the LBD is the perfect option for any occasion. However, since it is the holiday season after all, it might be a good idea to upgrade it with a few festive details. Opt for metallic or sparkly heels in combination with a matching clutch, and then top the look off with some crystal or diamond jewelry pieces, to achieve that fun yet sophisticated Christmas party look.
If anything calls for glitz and glam, it's the holiday season. So, don't be afraid to go all out this Christmas with these incredibly festive party outfit ideas.
Fashion Ideas:
Festive Christmas Party Outfit Ideas for a Stylish Celebration
Are Expensive Shoes Worth It?
This post may contain automatically and manually added affiliate links,
which means I might receive a small commission if you make a purchase using a link at no extra cost to you.


Shop New Arrivals at Stella & Dot Here!