In preparation for Christmas every year I do a lot of baking,  I usually choose 6 recipes and over a 4 day period I would spread out the baking with all  the other tasks we all have during the holiday, but hey I have fun, enjoyed doing what I love and get to share the rewards with family and neighbors. But Cranberry Orange Spiral Cookies are ones that reminded me of my grandmothers baking. She was always patient and taught me how to bake yummy recipes.
One of my first tries at baking was a Apricot pie, what a disaster, I had to piece together the crust and not because of the recipe, back then grandma used "lard", I think I was about 12 or 13, I just wasn't patient to roll out the crust, but that's how we learn. I remember it still tasted great, I'm a pie crust lover so it was ok. How about you?
3/4 cup unsalted butter
2 cups light brown sugar
3 large eggs
4 cups All-Purpose Flour
1 1/2 teaspoons salt
1/2 teaspoon baking soda
If you like you can add about 2 tsp. orange zest
Filling:
1 1/3 cup finely dried cranberries (Craisins)
1 cup pecans (I used walnuts cause I had lots)
1 cup orange marmalade This eliminated the use of a thickener, gave it a good flavor and added sugar
Cookies:
In a bowl, whisk together flour, baking powder and salt until well combined. Set aside. Note: I use a ziplock bag, mix it up and pout it out.
In a large bowl, cream butter and brown sugar until light and fluffy, about 3 minutes (mixer at medium speed). Add eggs and beat well. On low speed or with wooden spoon, gradually add flour mixture, beating until just blended. I used my Kitchenaid Mixer for my mixing.
Shape the dough into 2 pieces and place in fridge to chill for an hour.
Unwrap chilled dough and place on parchment, roll into a 12×9 inch rectangle of uniform thickness. Spread half the filling (date or cranberry) over the entire surface of the dough.
Using the paper to help you, roll the dough from the long edge into a log. Wrap the dough and chill again for several hours, or overnight. And this is what I did for later baking.
Filling:
In a food processor, combine the cranberries, pecans (or nuts of choice) and orange marmalade until well blended. Spread half the filling (date or cranberry) over the entire surface of the dough to within ½ inch of edges.
Baking:
Preheat oven to 375° F and line cookie sheets with parchment paper. Unwrap the chilled dough log and using a sharp knife, cut into ¼ inch slices, thicker if you like. Place on prepared cookie sheets about 2 inches apart.
Bake one sheet at a time in preheated oven for 8 to 11 minutes or until edges start to turn lightly golden (mine were 9 minutes). To stop baking, immediately slide parchment paper onto a cooling rack. Its best if you cool the cookies for a few minutes before removing from the parchment and placing directly on cooling rack.
In summary: The cranberry filling takes on a hint of orange of course and tastes delicious
Once you bake your cookies you can put in a tight container and freeze up to 6 weeks before thawing. You can also freeze the rolls to bake at a later time.
I baked my cookies on parchment paper, it is suggest that if using a greased dark pan, bake a shorter amount of time.
Store in an airtight container or Ziplock bags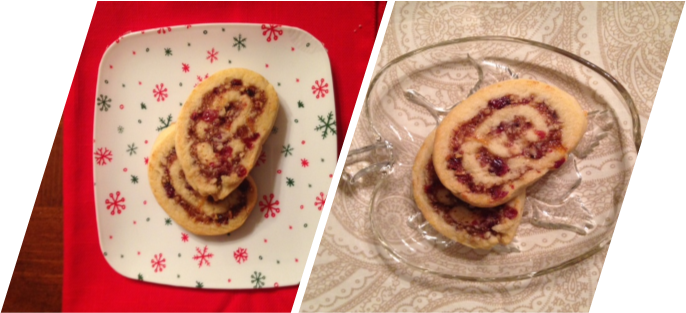 This is one of the recipes, Cranberry Orange Spiral Cookies and much like my grandmother made when I was a child, except she used a date filling. And this was my first attempt at a filled cookie, so it brought back many memories, which seemed that this year those would come flooding back, for some reason more than years past.
So now I share with your these yummy moist cookies that could be made anytime of year but seemed most appropriate for Christmas and because they just get better each day as the filling helps keep the cookie moist. I found the recipe idea while perusing on Pinterest, (hum I like that word) and it is actually adapted from "King Arthur's" Website as this was the brand of flour I am using. And on their site there is a recipe for the date filling if you would like to see Pinwheel Cookies with Dates and their Cranberry Cousins
[…]
For my other great recipes check these for holiday baking:
Cranberry and Pistachio Bars-Copy Cat Starbucks
Cherry Slice Bars Recipe