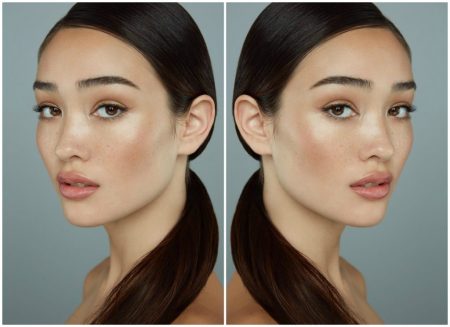 Although we all crave and do our best to achieve that 'lit from within' glowing complexion, sometimes it's just not possible to get that JLO glow without a little help from the wonder that we know and love as makeup. Of course, we should really try to nourish our skin with the best products for our skin type, layer them in the right order – due our due diligence. However, we all know that that flawlessly radiant complexion is a difficult feat to achieve, so why not fake it 'till you make it?
Makeup companies have done wonders in the 'glow' department, especially since this season is all about the glow – from highlighters, glittery and metallic eyeshadows to ultra-shiny holographic lip glosses. Let's face it – this is the year of the glow, so let's see which products we can snag and let it shine, let it shine.
A cult favorite
This first product is amazing on so many levels, but since it has been on the market for so long and already holds an iconic status, people rarely mention it anymore, which is a shame, because it deserves to be in the spotlight at all times. The product we're talking about is the MAC Strobe Cream. It comes in a variety of shades – to suit different skin types and glow preferences, but this is where things get interesting.
This is one of those amazing double-duty beauty products that can be used in so many different ways. As its first and foremost, as a moisturizer it nourishes the skin and can be used alone to give you that illusion of a natural glow because it contains iridescent particles, so even when you decide to go makeup free, or foundation-free for the day, just slather this goodness, and glow, baby, glow. You can also mix it into your foundation to make it less matte and more radiant, and finally, it's so good that you can actually apply it to the high points on top of the already finished face to add to the glow intensity, and unlike the powder highlighters, it won't give away the fact that you've used something at all as it blends into the skin like a charm.
Lit from within
No matter what foundation you're wearing, as we all have come to know, a primer can make or break your look. Now, many people opt for the mattifying ones, but the trick to the 'lit from within' makeup look that won't even require powder highlight is a radiance boosting primer. There are many amazing ones on the market, but the one that we have fallen head over heels with is the Auto Pilot Radiance-Boosting Primer by Napoleon Perdis. It promises a Cinderella-esque radiance, and boy, does it deliver.
You can play with it in multiple ways – as a primer that will 'beam' through your foundation. What is more, if you want that 'visible from space' glow, you can also gently dab it over your foundation anywhere you want – the tops of your cheekbones, the tip of the nose, under the brow-bone – just take it and see where your glow goals take you.
Don't underestimate a good foundation 
As said, the makeup industry has done a darn good job in the radiance department, and foundations are no exception. Now, there are plenty of sheer to medium coverage radiant foundations, and we have put many to the test, but the one that won by a landslide is the Giorgio Armani Luminous Silk Foundation. Many foundations out there claim they'll give you a look of 'your skin but better' but this one actually lives up to the promise.
It evens out your complexion flawlessly, giving you that baby-smooth radiance – especially with the right primer, and the best thing about it, you look impeccable but no one could ever tell you're wearing foundation. If the JLO glow complexion is what you want, this is your product. It does come with quite the price tag, but a little goes a long way, so this truly is a great investment.
 More, more, more  
If you want to glow like a goddess, but still don't know how to make those powder highlighters work without highlighting your fine lines and end up looking cakey, stick or drop highlighters are here to your rescue. We've tested out numerous ones, and as we couldn't pick just one, we're giving you two incredible options. Number one belongs to Fenty Beauty's Shimmer Skinsticks.
These babies are so creamy, you can apply them using a sturdy brush or just gently dab on your high points, and they melt into the skin like a charm. There are different shades – the most neutral being the Confetti. It's an iridescent opal shade that will give you those slight 'unicorn vibes' and you can even apply it before your foundation and the specs will beam through. The other product is the Iconic London Illuminator – which is a liquid highlighter. This will give you a glow so intense, the world won't be able to handle it. You can go for the more subtle usage – use your beauty blender and dab on highpoints, or add a few drops in your foundation for a glow that just doesn't quit.
Seal the deal 
Settings sprays are supposed to hold everything in place, and they do – some more some less successfully. However, once we heard MAC was dropping a glowy version of the FIX+ called Fix+ (Shimmer), we simply had to give it a try. Just like the original, it doesn't disappoint in the setting department, but the pearlescent particles with which it's infused give you that all-over glow, but not like you're covered in body glitter, just like you're naturally radiant. And, much like the old one, you can wear it as a setting spray, or simply put on your new favorite strobing moisturizer, spritz Fix+ generously and be the ultimate glowing girl of summer.
Related Beauty…
4 Ways to Enhance Your Health and Beauty
8 Tips to Make Your Makeup Look Natural