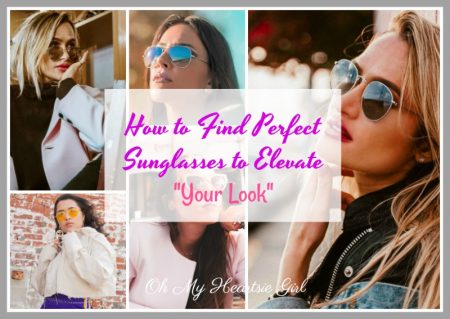 If you're one of those women who think that good accessories can upgrade even the most casual outfit – welcome to the club, because we think so, too! Of course, everyone will agree that a nice pair of sunglasses can completely transform any combo and bring a touch of class to it, so make sure to pick an appropriate one and elevate your look that way. Don't worry if you don't really know how to make that happen, because we're here to help you out.
Here are four useful tips on how to find perfect sunglasses for yourself, so check them out and enjoy!
Make sure you get a pair according to your face shape… 
The first thing you should take into consideration when looking for a perfect pair of sunglasses is your face shape, which is exactly why you should identify yours right now. For example, ladies with a square-shaped face should opt for curvy frames, such as an oval or rectangular pair with rounded edges, simply because it can soften their facial features and make them look gentler. On the other hand, rectangular sunglasses are a perfect choice for women with a round-shaped face, since these can elongate their face and bring attention upwards.
As for heart-shaped faces, you should know that bottom-heavy frames like the famous aviators will do the trick as they'll direct attention downwards and broaden your delicate jawline at the same time.
… and your skin tone, too 
Picking the color of your new frames is much more than opting for your favorite shade or pairing them with the dominant color palette of your wardrobe. In fact, it's more about matching them with your skin tone and hair color, as these two factors should play a huge role in choosing your new sunglasses. Apart from that, people with lighter eye colors (mostly blue) are more sensitive to sunlight, which is why they often tend to choose sunnies with darker lenses.
Needless to say, black frames will appear much more dramatic on blondes than on brunettes or gals with dark hair, so be sure to bear that in mind, too. Ladies with warm-toned skin should pick sunglasses with orange, red, gold, brown, beige, green, or yellow frames, as these will look stunning on their complexion. On the other hand, women with cool-toned skin will look flawless with blue, purple, pink, or grey frames, since these shades perfectly match their skin tone.
What about UV protection? 
Another important thing you should pay attention to when searching for a perfect pair of sunglasses is UV protection, which is crucial if you want to take proper care of your eyes. This gets even more important in the areas which are sunny for the most part of the year, such as Australia, and the good news is that women started to recognize the importance of UV protection when it comes to their sunglasses. This is exactly why they love picking a pair that is shielding their eyes from glare and harmful UV rays.
When combined with some fashionable frames, these definitely are a match made in heaven as they can help you look elegant while keeping your eye health under control. So, if you want to have such a pair, get your new trendy sunglasses in Sydney, the city where ladies really mean business when speaking of stylish sunnies. You surely won't regret it!
Classic, retro, or trendy? It's totally up to you! 
When it comes to the style of your frames, the truth is that the choice is totally up to you, so be sure to get sunglasses according to your own preferences. However, if you want to keep up with the latest fashion trends, here are the hottest ones you'll be thrilled to rock this year. The first ones are extreme cat eye sunnies, which are already loved by millions of girls from all over the world. The fact is that cat-eyes have been going through a lot of changes over the last couple of years, and these days they are becoming more over-the-top, so check them out if that's your cup of tea.
On the other hand, there are small 90s-inspired frames, too, which are quite quirky and authentic. If you're into that style, get these with red lenses and you'll nail your fashion game. Besides these, there are also glamorous, oversized sunglasses that inevitably add a touch of class and elegance to any outfit, so opt for them if you want to complement any feminine outfit and make it more sophisticated.
As you can see, finding a perfect pair of sunglasses is one of the best ways to elevate your look and make it much trendier and more stylish. Just be sure to get a pair that flawlessly fits your face shape and skin tone in the first place, with UV protection, of course, and once that's done, you'll undoubtedly upgrade your personal style to perfection!
Related:
6 Tricks to Fake an Expensive Style
5 All Day Beauty Tips That Outlast Warm Weather
Be a World Traveler: 7 Must-Know Secrets for Flying Internationally
This post contains affiliate links