Peek-a-Boo Cookies | MrFood.com: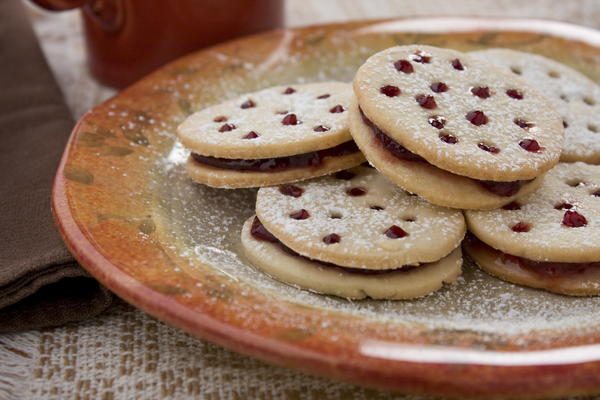 These bakery-worthy homemade sandwich-style Peek-a-Boo cookies have a yummy jam that peeks out from holes in their sugar-coated tops. Whether you make 'em to enjoy at home or for a bake sale, these will go fast!
What You'll Need:
1 1/2 cups (3 sticks) butter, softened

1 cup granulated sugar

1 egg

2 teaspoons vanilla extract

1/4 teaspoon salt

4 1/2 cups all-purpose flour 

3/4 cup jam or preserves (see Options)

1/4 cup confectioners' sugar

What To Do:

In a large bowl, with an electric beater on medium speed, beat butter, granulated sugar, egg, vanilla, and salt until creamy. Gradually add flour, beating until well mixed. Cover and chill 1 hour.




 

Preheat oven to 375 degrees F.




 

Divide dough into 4 pieces. On a lightly floured surface, roll out each piece to 1/8-inch thickness. Using a 2-inch round cookie cutter, cut out circles and place 1 inch apart on ungreased cookie sheets. Using a plastic drinking straw, randomly cut out circles of dough from half the cookies.




 

Bake cookies 10 to 12 minutes, or until lightly golden. Remove to wire racks to cool completely.

Spread jam evenly over solid cookies. Sprinkle remaining cookies with confectioners' sugar. Place the cookies with holes over the jam-topped cookies. Serve, or store in an airtight container.

These cookies are delicious and adorable! We suggest putting out a plate of these along with mugs of steaming cider.


 

Any flavor jam can be used, but we like to use an assortment so there are different colors peeking through the holes in the cookies.
The time of year I love, to bake for family and friends. I have gone through a lot of flour over the years and baking is always fun.
And I would like to invite you to share all the sweet treats you make for the Holidays.
Add your recipes and then visit to share others
Wishing you all Happy Holidays!!