With summertime finally in full swing, the great outdoors comes calling. It's time to throw on swimsuits, break out the summer cocktails, and turn up your favorite summertime jams. What better way to spend time outdoors than in your own backyard, relaxing by the pool, grilling and watching your kids enjoy soaking up the sun? What's more epic than feeling like you're vacation while you're at home? Having a backyard is like having the most beautiful canvas to create your summertime dreams. Just about anyone can have a fun summer without having to go on an expensive holiday. 
That's only possible, however, if your backyard looks good, and let's face it very often, it just becomes a disorganized area where all sorts of clutter and junk are kept. Not everyone starts out with that perfect summer backyard, sometimes you need to do a little work. Luckily, you don't have to do a total overhaul to create an outdoor oasis. Nowadays, with a few tweaks and changes, you can make your backyard the place everyone wants to hang out over te summer. Here are a few ideas!
Clean Up 
The very first thing that's needed to transform your backyard is a bit of decluttering and cleaning up. When the backyard gets ignored and neglected, it becomes a dumping ground for odds and ends and other things that ruin the aesthetic of the space. You can't create a dreamy summertime oasis when there are boxes and old tools everywhere, so it's time to completely clean the slate so you can create something truly amazing. Take a few hours over a weekend to sort through this stuff, and categorize accordingly. If it needs to be thrown away, you can hire a junk removal company to make it easier. You can also sell stuff you don't need anymore, and if you want to keep it, then invest in better storage. 
Fixing the Pool
When you have a swimming pool, it is the true focal point of your backyard so it really has to look good and stand out for the right reasons. If your pool is in very bad shape, one of the things you'll have to do is resurface it, a task which will definitely need professional help. According to G&B Tile and Plaster, that does a lot of swimming pool remodeling in Dallas, "you don't have to do as big a job as resurfacing the whole pool, even just changing the decorative tile that runs around the border can have a dramatic effect.  Some light resurfacing on the steps, with a new tile run, costs a lot less than you would think."
Now that you've gotten the major stuff sorted out in your home, it's time to add accents to make it look pretty! One thing you can do pretty inexpensively is investing in interlocking floor deck tiles that you can lay in the seating area. It will give you the look of an expensive deck without spending thousands.
Furnishings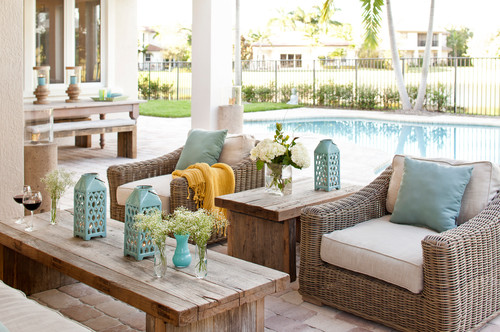 The next step is outdoor furniture and decor. These days outdoor furniture is extremely stylish and can really make a backyard look like an extension of the inside of your home. You can get a coffee table, couches and an eye-catching outdoor rug to really make the space special. Add to that fairy lights above the seating area and your backyard oasis will be complete! Now you can start coming up with ideas for all the backyard parties you'll have!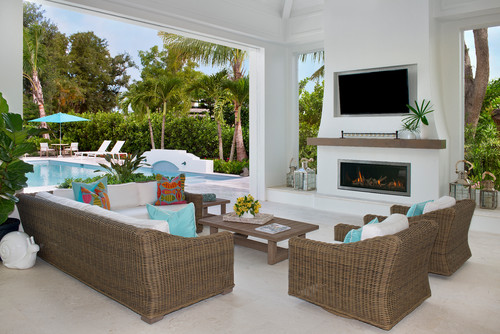 Fixing up your backyard to make it look really beautiful is one of the most fun projects you can take on in your home. It gives you an extra space to enjoy looking forward to coming home to. It doesn't even have to be a huge undertaking either. There are so many cost-effective ways to change how the outdoor space looks, and you can even add a fun play area where your kids can spend time in the summer. If you like DIY Projects you could try making some colorful Terracotta Painted Pots  If you enjoy the summer and you enjoy playing by the pool, and having friends over to bond and spend time with, then fixing up your backyard will up your hosting and social game! 
Related:
4 Tips to Turn Your Backyard Into a Posh Retreat
7 Ways to Make Your Backyard More Private
Terracotta Painted Pots