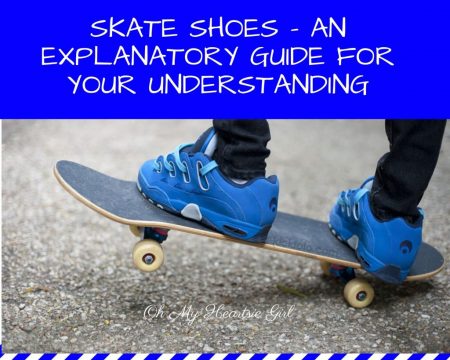 When you hear skate shoes, what is the first thing that comes to mind? A certain brand? A casual look? In the end, what differentiates normal shoes from Skate shoes is the use that will be given and the technology with which they are built.
Double stitch, vulcanized sole or supertype. In this post, we will explain the different terms and their meanings to help you the next time you go to buy skate shoes.
What Makes Skate Shoes Special?
Good Skate shoes from West 49 are manufactured taking into account the needs of the skaters and the intensive use they are going to give them. Just like running shoes or trekking boots, they are made for walking or running on different terrains. Skate shoes are specifically made for riding comfort and a good touch with the board.
Also, they should be more resistant than other sports shoes because of continuous abrasion. Protection, reinforcement, and strength in the areas that need it, all this plays a key role in the making of good skate shoes.
Materials of Skate Shoes
Materials play an important role in the potential life of a skate shoe. Materials such as canvas or hemp do not have the hardness or resistance of suede or leather but offer other kinds of features such as lightness and breathability.
Your decision on the purchase will be based on the type of Skater you are. If cruising is your thing or you simply use Skate as a means of transport, canvas or hemp will work well for you.
If you are a technical skateboarder that you like to do Street and give incredible "gaps" you will opt for Suede or Leather sneakers. These materials are more resistant and better withstand the wear of the shoes against sandpaper or asphalt.
That the seams are hard.
The sewing on your Skate Shoes is the reinforcement of them.
A full seam will help your shoes avoid opening and breaking and also offer support in key areas.
The vast majority of Skate Shoes come with double and even triple stitching around your "big toe" (thumb) and in the area with which you push the Skate to kick. These high-impact areas will interact with rough materials so they need additional support.
Types of Cane (High-Mid-Low)
The type of cane of a skate shoe is a personal preference of each Skater, but we will indicate the benefits of each type of cane.
The most classic is low cane or "low top" which will offer us unparalleled comfort and does not restrict movement.
The half-round or "mid-top" is also a very popular and appreciated option because they offer us more ankle support than a "low top" but they are not as bulky as high-top ones.
The "high top" or high cane shoes from West 49 offer complete protection for our ankles but they are also much bulkier.
The best option is to try all types of cane and choose the one that is most comfortable for you.
Types of Soles
There are two types of soles that are vulcanized and cupsoles. They are two terms of which not much is spoken and as a general rule, we each opt for one type of sole or another. Do not believe everything they tell you or blindly trust what colleagues tell you.
The best thing you can do is try them yourself skating. Each one has its advantages and since there are not two equal feet, each Skater will work better than the others.
Vulcanized Outsole
Vulcanized soles will offer us a better touch on the table thanks to its rubberiness and flexibility. The drawback of a vulcanized sole is that they lack heel support due to their super flat shape.
For technical tricks and Street, vulcanized soles will stand out. If your thing is to give inhuman "gaps" of 20 steps the same way you are more interested in a cupsole. The manufacturing process of a vulcanized sole is relatively simple.
The rubber sole of the shoe melts, which creates elasticity and resistance, and then adheres to the top of the shoe. This technique creates a stronger bond than a traditional tail and gives us the advantage that between our foot and the skateboard there is only one rubber sole which gives us an unequaled touch.
Cupsole Sole
The Cupsole construction is also very popular among many Skaters. The way to remember the difference between cups and vulcanized ones is that the cups offer us greater protection. The Cupsole construction offers us a harder feeling, greater support of the foot and ankle creating a thicker barrier between our board and us. The disadvantage of this is a lower touch.
When cupsole shoes are made, the bottom and top of the shoe are two independent pieces that are joined by tails and seams. This process allows several companies to add all kinds of features at the bottom of the Shoe before application. The characteristic of a cupsole will be much more support and protection.
Your shoes will always be constantly worn by sandpaper and asphalt.
Final Words
So, choose the shoes that fit you best and start skating until they are destroyed. And you know: we all need to do some madness once in a while.
[…]

This post may contain affiliate links and I might receive compensation if you make a purchase after clicking on a link.