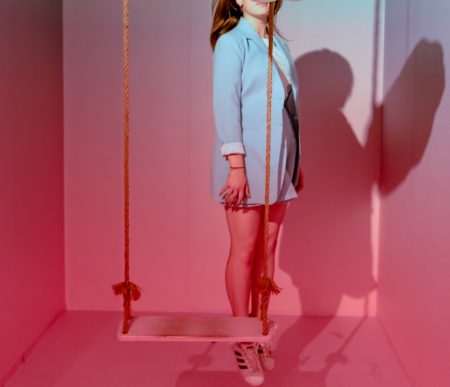 It's a hectic world, this is true, but that shouldn't stand in the way of us having our cake and eating it too. This means we should never allow ourselves to let style get in the way of comfort or vice versa. Despite popular opinions there are definitely ways, and easy ways for that matter for these two "worlds" not to only reconcile but to merge, and form a powerfully innovative fashion amalgamation. Just in case you're not taking our introductory word on it, make sure to stay glued to your screen because we're about to take you on a comfortably chic fashion ride like no other and show you just with what ease this look can become your permanent everyday go-to fashion choice.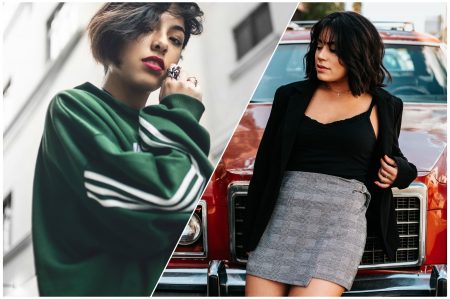 Athletic on top, vamp on the bottom 
Faux leather skirts have been and still are all the rage this season. Whether they're A-line, pencil, pencil with some ruffles for extra pizzazz or any other cut is irrelevant – the important thing is that you pick the kind that suits your body type, makes you feel comfortable and confident and look chic. Now, you may head out to work in this skirt, or for a casual lunch with your partner or girlfriends, so you don't want to be overdressed. In case of an office situation the comfortable or athletic aspect can be a simple wonderfully grey crew neck sweatshirt or cotton long-sleeve blouse, and if you want and can afford additional athleisure, a grey hoodie fits the bill perfectly. You can choose to wear heel ankle boots or flats, depending on just how comfortable you want to be, but whichever route you take you will still look ultra-chic.
Not a necessity 
By now, us ladies should be aware of the fact that chicness and stylishness can be accomplished with numerous other clothing items besides dresses and high heels. We're aware that we don't have to endure constricted clothing and feet-killing footwear in order to look fantastic. Just to prove a point imagine and outfit like this – a breezy pair of amazing wide-leg checked pants that make you feel like you have nothing but make you look like you're floating on air from all the chicness. Then, a simple white tee and a slightly oversized blazer in a saturated hue (preferably containing one of the colors featured on the pants), and then all of that completed with a pair of trendy and comfortable New Balance sneakers that are almost too cool to bear. Put on a simple tote or add some extra elegance with a cute and compact micro-bag and bam – you've got yourself an office, dinner, movie, errand and even Instagram-worthy look.
Jeans will save the world 
Whoever said that jeans can't be chic simply hasn't had the good fortune of finding the perfect pair. That being said, not all jeans are created equal and black and dark wash ones, especially if they're straight-leg rule above all other kinds. They are comfortable, they never fail at making you look classy and they're always here for you as you can choose to dress them up or dress them down. A nice silk or other kind of a 'flowy' blouse, if it features a bow neckline will make you look like you're ready to conquer the French Riviera. The blouse allows you to move yet look heavenly chic and when it gets chilly what do we do? We add a classic and timeless trench coat into the mix, mid-heel camel ankle boots and just for a touch of casualness a brown backpack. You are free to board a plane, go to work, college and even evening drinks. Heck, you can even board a plane and head straight to Paris and you'll still look almost ethereal while not sacrificing comfort for a nanosecond. 
A comfortable couture moment
In case you've missed Carolina Herrera's fall 2018 collection, you should know that ball gown skirts in saturated hues completely dominated the runways. The outfit we have in mind belongs in the upper end of the casual arena, as it does feature an extravagantly big skirt. Still, the flow of it makes you feel completely comfortable in your own skin, and if you don't feel like emulating the entire look with a white dress shirt and a wide statement belt, there's an easier way to both tone down the look and make it appropriate for almost every occasion (aside from running, unless you want a dramatic flowy moment down the street). A chunky sweater – it is time for sweater weather after all can be the perfect addition and it can create that nonchalant 'oversized on top of oversized' vibe that you can definitely take into the office as well as any other place in town. Just make sure you 'elevate' yourself a little with both a chic crossbody bag as well as a pair of mid-block-heel shoes, just so you save the dress from dragging on the floor. If a day in this outfit doesn't turn into a spectacular one, we don't know what will.

Jean jackets over metallic pleated skirts topped off with tennis shoes, leggings and elegant tunics, chic A-line dresses with edgy motto leather jackets – the world of casual and chic truly is your oyster. You just have to stop pigeon-holing your wardrobe and classifying things as 'chic' and 'casual'. Let your creative juices flow, choose random items from different styles and something great will happen each time, you just need to trust your instinct.
Related Fashion:
How to Find Perfect Sunglasses to Elevate Your Look
5 Best Makeup Products to Fake a Glowing Complexion
Did You Know There Are 5 Seasons To Your Hair
This post contains affiliate links, which means I might receive a small commission,
if you make a purchase using this link.
Share At These Fun Parties:
How 20 Minutes Can Save Your Life Linkup
Rosy Out Look Blog
Who's Wearing What Wednesdays