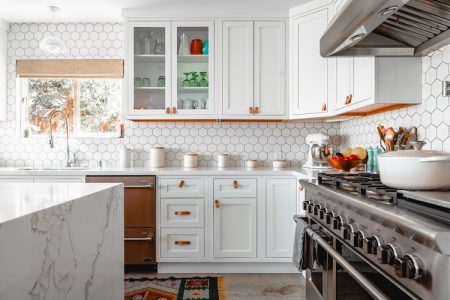 The kitchen has fast become the centerpiece of many people's homes which means we want to keep it looking in great condition at all times. Upgrading a kitchen is far from cheap, which is why taking out a short-term loan is an option taken up by many homeowners.
You obviously want to make the most of the funds available to you, so here is a list of 5 ways to save money redesigning your kitchen.
Upgrade your hardware
Even the smallest of changes can make a big difference in how you look at your kitchen. Changing the sinks and taps, or cabinet and drawer handles can instantly refresh the entire space. The more you spend on these items the better quality you can secure and it is a more cost-effective option than spending money on new flooring or countertops.
Repaint the cabinets
The cabinet doors and joinery pieces represent the character of the kitchen. These can be easily rejuvenated at any time with a new paint job, which will cost less than replacing them. However, not everyone has cabinets that can be painted, so refacing is the best alternative. This means changing the drawer and cabinet fronts, which while more expensive than painting is still cheaper than installing brand new fixtures.
Mix up the counter tops
Many people think that all of the counter tops in the kitchen have to be identical and of the same material – but that isn't the case. Installing granite or marble looks fantastic but it is a more expensive option. By mixing and matching various types – such as composites or laminates – you can still have standout countertops balanced with cheaper options that significantly reduce the cost. Divide them into sections so the areas that are used frequently feature the cheaper materials, while a centerpiece – like an island counter – can be of a higher quality.
Create a DIY kitchen island
Paying for someone to build a brand new fixed island, or installing one from a supplier can be quite expensive. Alternatively, you could convert an old table, or trolley into a movable island, saving money while still achieving the desired look. Adding some castors to the bottom of a table, while building the required shelving and cabinets around it, gives you functionality and style without having to break the bank.
Install a backsplash
Adding a backsplash to a section of the kitchen can have a big impact. A cheap and effective option is to apply a peel-and-stick backsplash that is quick and easy to put in place. For an even more bespoke option, the more experienced can install real tiles to create something special. If you already have a trowel and tile cutter then all you need to buy are the tiles and pre-mixed grout.
Maximize your current space
Changing the layout of your kitchen will invariably require you to do some rewiring and plumbing, which can get complicated and expensive. Make the most of what you have and work with a contractor to avoid moving fixtures around and concentrate on upgrading the existing fixtures and fittings you already have in place.
A bonus tip: Apart from the hardware, upgrade your kitchen appliances as well. Switch to high-tech kitchen appliances, ditch your old cooking range and get a new propane gas grill. Update the food factory and all everyday tools like the blender, chopper, and more.
[..]
Related:
5 Simple Kitchen DIY's to Reinvent Your Kitchen's Look
5 Ways to Update Your Kitchen on a Budget
Roll up Those Sleeves: 5 Easy DIY Kitchen Projects You Can Do in Your Spare Time
This post has affiliate links, which means I might earn some cash if you click on a link, with no cost to you.