Let's face it, it can be quite overwhelming browsing the baby aisles looking for the perfect baby must-haves. With so many new toys, gear and accessories it's tempting to just bring home the same tried-and-true products everyone else has or that worked with older siblings. Today, I'm narrowing it down whether you are a new or seasoned parent, grabbing a gift for a baby shower or simply just want to know what the hottest products for babies are at the moment.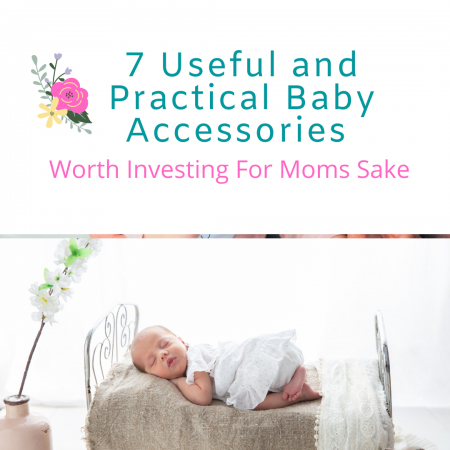 Here are my top seven most practical and useful baby items that are worth investing in:
Montessori-Inspired Wooden Toys
There are so many reasons why I absolutely love wooden toys. Wooden toys have been around for decades, if not centuries and other than their (now trendy and simplistic) look, they also offer plenty of benefits:
Helps to Build Fine Motor Skills

Improves Hand-Eye Coordination

Promotes Problem Solving & Reasoning Skills

Less Distracting & Noisy

Encourages Use of Imagination

Very Durable & Easy to Clean
A few personal favorites of mine are wooden rattles, shapes and blocks, wooden cars, peg dolls and pretend food. Although these Montessori-inspired toys may cost a bit more, they come with incredible value.
Beanko Baby Portable Diaper Changing Station 
As a seasoned mom of four, I cannot count the number of times I have had to change my babies diaper in the car. Whether you're on a road trip, at the park, or an outdoor event, this portable diaper changing station is hands down the most convenient accessory you can have. Not only does it fold up nicely for storage, but it also comes complete with a soft wedge to place underneath so your baby doesn't roll. Here are a few of my favorite features:
Organization: Comes complete with storage pockets for baby essentials like diapers, wipes, toys and even a built-in tablet holder.

Sanitary: Public restrooms can be gross and often inconvenient. This is a great way to keep your baby comfy and clean with an easy-to-clean surface.

Convenience: If you've ever been in a situation where your baby has a messy situation but the kids are all asleep in the car, this is your go-to! No more waking up the kids and hauling them all inside just to change a diaper.

Versatility: The changing pad can detach for use on its own as a portable play mat, or you can use the storage side to attach over the back of the seat for organization when your baby is out of diapers.
Dock-a-Tot 
The Dock-a-Tot is simply a docking station for your little one. It provides a safe and cozy space for your baby to rest, lounge and play. It's perfect for traveling, co-sleeping, tummy time and is machine washable! The Dock-a-Tot is recommended for babies 0-8 months, but is also available in a larger size that fits toddlers.
Play Gym by Loveevery
If you're anything like me, then you love anything that's versatile and that will last for years to come. The play gym by Loveevery is one of those investments that you'll instantly see the long-term benefits. This play gym features:
Stage Based Brain Development: It is designed to promote visual, cognitive and motor development from newborn through toddler years.

Safe & Sustainable: Comes complete with organic accessories and water-based non-toxic finishes.

Developmental Play: The areas on the play mat can be revealed or concealed to prevent over stimulation and promote learning through various senses like seeing, touching, mouthing and hearing.

Removable Accessories: Most of the pieces can be detached for continued play.

Convertible: Not only is this a great tummy time mat and play gym, but it also converts to a play fort using the play space cover that's included.
Purchasing your baby's crib is probably the biggest investment of them all. This is going to be a place where your little one sleeps from birth through toddler years (or even beyond) so it's very important to find one that you love and that will grow with your child for years and years. This BabyHood Riya Cot has a modern, stylish design and includes all of the conversion accessories that can convert into a crib, toddler bed, day bed and sofa bed. My favorite feature other than the beautiful Scandinavian design is that it has a smooth, single-hand drop-side railing so no more heavy bending!
Puj Bath Tub 
One thing that I have learned from experience is that bathing your little one in the sink is the ultimate way to go. This Puj bathtub is soft, comfortable, mold and mildew resistant, fits most sinks, is great for travel and very easy to clean. With a separate mini-bathtub, you have to purchase a separate piece that helps prop the baby up, wait forever for the water to fill, wait forever for the water to drain and then clean it thoroughly after every use. It's quite exhausting which is why I love the Puj bath! Quick, easy, convenient and hangs flat for easy storage. Plus, when your baby outgrows the sink, he/she will be big enough to sit and bathe in the regular tub.
Stroller/Car Seat Travel System 
A car seat is an absolute must-have, while a stroller is optional (although I highly recommend having one). This Evenflo Travel System is your all-in-one! It comes complete with an infant car seat that attaches easily to the stroller itself, a stay-in-car base and a full-size luxury stroller. The stroller itself features six modes of use, a large canopy, extra large storage basket, removable child tray, soft sturdy tires and is lightweight and easy to store. Truly the best of both worlds with this travel system. Try a stroller bundle bag to keep baby warm, you can make them yourself.
There are numerous innovative baby products on the market, but these are just a few of my personal favorites that I truly believe are worth investing in. I wanted to share products that will bring both you and your baby joy in your day-to-day activities as well as products that will grow with your baby. Did I miss one of your must-have products? Feel free to share your favorite baby accessories that spark joy for you and your little one down below!

This post may contain affiliate links and I might receive compensation if you make a purchase after clicking on a link.
[…]
Related:
Tips for Improving Your Baby Sleep Patterns
Baby Gates: An In-Depth Buyer's Guide
4 Tips In What You Should Consider When Buying a Baby Stroller