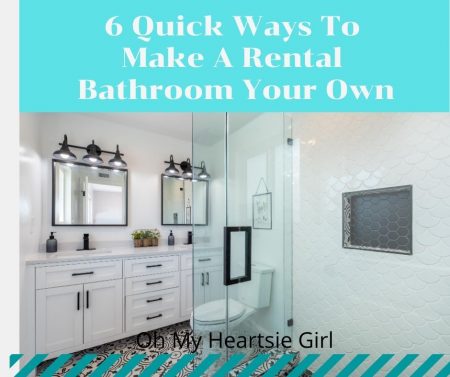 When finding our way in the world, often the quickest and easiest way to fly the nest is to share an apartment or rent a property. Indeed, for many, renting can become a flexible and cost-effective way of life.
There are, of course, pros and cons of renting a property. On the upside, you're not tied down long term to the same location or lifestyle, but on the downside, you're not yet on the property ladder and it can also be difficult to make wholesale changes to your home.
Many rental homes come with a fairly conservative décor and colour scheme, high enough in quality to attract potential tenants yet bland enough to bore even the most unadventurous home improvement enthusiast to tears.
So, how can you turn your new dwelling into a home that represents you and your own unique personality? Well, one place you can begin is the bathroom. Usually containing a bathroom suite set, including toilet and basin, plus bath or shower, it is the perfect place for some personalization.
Get painting
One quick and easy way to transform a space into something with a touch of character is to add a lick of paint. As long as you clear it with your landlord beforehand, a fresh coat of on-trend grey, spring green or even a fruity raspberry, could inject some much-needed life into that tired old bathroom.
Coordinate your style
What kind of bathroom style are you looking to achieve? Many American bathrooms contain products with a contemporary theme. This means they follow the latest trends, with minimalist interiors and clean, unfussy fixtures. However, your style may be a little different. If your rental property is a little older, you may want to furnish in a traditional style with gold or copper coloured faucets and showers, combined with a quaint roll-top tub. If your style is a little quirkier (think Monica from Friends), why not combine different looks and create something that is more chic than shabby.
Accessorize your bathroom with personal touches
So, you have your colours and style sorted, what's next on the agenda? Well, it's definitely time to add some personal touches to your bathroom with the right accessories. Just like buying a cute pair of heels to match a ballgown, accessorizing your bathroom is just the most amazing amount of fun.
As accessories don't have to be permanent, they are ideal for rental bathrooms. First, think about all your bare essentials, like somewhere to store your toothbrush, a holder for toilet tissue and that all-important toilet bowl brush. Next, consider those slightly more decorative accessories, like houseplants, pictures and prints. Finally, don't forget to buy some fluffy towels that match your chosen colour scheme.
Get your green fingers out add houseplants
Whilst we're on the subject of houseplants, greenery is a craze that is sweeping the world of home interiors. As we all know, plants help to purify the air we breathe and add organic life into any living space.
Instead of simply throwing a few potted plants on to a shelf or window sill, why not be more creative and create a living wall (essentially, a vertical garden inside your home)?
Increase your storage with extra cabinets

Living in a downtown apartment may mean you're at the heart of everything that's happening but it can also mean a complete lack of space in your home. To help reduce clutter in a small bathroom, why not add a bit of extra storage in the form of cabinets and units?
There are plenty of freestanding options which don't need to be permanent, like ladder shelving, adding instant space for toiletries and bath time essentials. However, if you are on good terms with your landlord, you can easily fit some wall-hung furniture. Learn how to create spaces for your bathroom necessities
Think a bit bigger
Are you good at home improvement? Why not have a chat with your landlord and see whether he or she is open to larger-scale works? After all, what have you both got to lose?
A brand new bathroom can be purchased and fitted for less than you'd think. So, if you'll be hanging around for a while, it may pay to think bigger.
If you've enjoyed these rental home improvement tips, let me know by commenting below.
Easy Ways To Turn Your Bathroom Into A Haven
How to Clean Mold in the Bathroom
Easy Ways To Turn Your Bathroom Into A Haven
[…]
I might receive compensation if you make a purchase after clicking an affiliate link at no cost to you.


Home Clearance Start At $1.99, Shop Now
Bathroom Products and Accessories