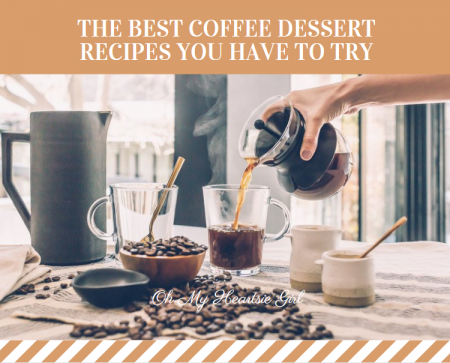 Around 49% of Americans drink coffee on a regular basis. You've heard the jokes about people needing an IV drip of this brown stuff since people are so hooked on it.
Perhaps you're one of those guilty Americans who need coffee to live and function. But just drinking it won't suffice.
If that little brown bean is life, then you'll want to read on. Here are some of the best coffee dessert recipes around!
Caffeine Brownies
Infuse caffeine into some treats so you can get your fix while enjoying something delicious. These caffeine brownies are so fluffy you won't want to stop stuffing your face with them.
Ingredients
8 cups black coffee
1 1/2 cups white sugar
1/2 cup butter (melted)
2 medium eggs
1 teaspoon vanilla extract
1/2 cup cocoa powder (unsweetened)
3/4 cup flour
1/4 teaspoon salt
1/4 teaspoon baking powder
Method
Boil your black coffee until it's reduced to just 2/3 cup; stir often. This should take about 30 minutes and it'll be thick and concentrated. Let it cool.
Preheat your oven to 350 degrees and grease your 8×8 baking pan.
Stir together the sugar butter until it's smooth. Then, beat in the eggs and vanilla extract.
Pour in the coffee concentrate and cocoa powder; stir until there are no more lumps.
In a different bowl, mix together the flour, baking powder, and salt. Stir this dry mix into the wet mix. Mix until smooth.
Take the batter and spread it all around the baking pan. Bake until a toothpick can be inserted and taken out cleanly; this should take about 30 minutes.
Let the brownies cool and then cut it into small bars.
Caramel Macchiato Ice Cream
On a hot summer day, you probably won't want to sip a hot coffee. So have some ice cream instead to get your coffee fix. For this recipe, you'll need an ice cream machine.
Ingredients
1 cup milk
1 cup white sugar
1 pinch salt
2 tablespoons instant coffee
2 cups heavy cream
3/4 cup caramel dessert sauce
Method
Mix together the first 4 ingredients until the sugar granules are dissolved.
Add the heavy cream and stir until smooth.
Chill the mixture in the refrigerator for at least 2 hours.
Make "soft serve" ice cream in your machine.
Put half of the ice cream in a tub and pour half of the caramel dessert sauce on top. Repeat this process.
Get a knife and swirl the caramel sauce around the ice cream.
Cover the tub and leave the ice cream in the freezer for at least 2 hours before eating.
Mocha Truffles
This recipe doesn't take a professional baker to make. In fact, you can bring these truffles to life with your microwave!
Ingredients
For the truffles, you'll need:
24 ounces semisweet chocolate chips
8 ounces of cream cheese (softened)
3 tablespoons instant coffee
2 teaspoons water
For the coating, you'll need:
6 ounces semisweet chocolate chips
1 tablespoon shortening
Method
Put some wax paper onto your baking sheet.
Melt the chocolate chips for the truffles in your microwave. Take it out every 30 seconds to stir.
Mix in all the rest of the ingredients for the truffles until it's blended.
Chill the truffle mix in your refrigerator. This should take around 30 minutes.
Use your hands to roll small 1-inch balls from the truffle mix and place them on the baking sheet.
Chill the truffles for a few hours.
Melt the chocolate chips and shortening for the coating in the same manner for the truffle mix.
Dip each truffle into the melted chocolate mixture and place them back on the baking sheet.
Let the coating set, which should take at least 30 minutes.
Coffee Mug Cake
This is another recipe where you can make in the microwave. The best thing about this one is its serving size is one!
Ingredients
3 tablespoons chocolate chips
1 tablespoon olive oil
2 tablespoons flour
2 tablespoons water
1/8 teaspoon baking soda
1 egg
1/2 teaspoon instant coffee
Method
Put the chocolate chips and olive oil into a cup. Microwave it for about 30 seconds to melt the chocolate chips.
Stir in the dry ingredients and mix well with a fork.
Add the wet ingredients and mix again with your fork.
Microwave the mixture until it's cooked through; this should take about 1 1/2 minutes.
Let the mug cake cool off for a few minutes before digging in.
Easy Mocha Trifle
For those of you who are lazy, this recipe will be a cinch to make. We make use of instant pudding mix, package brownie mix, and store-bought toffee bars for this dessert.
Sure, this recipe uses instant coffee. But you can enjoy your shot at home while making these desserts with a quality espresso machine.
Ingredients
1 box brownie mix
1 3/4 cups milk
2 packages instant white chocolate pudding mix
4 teaspoons instant coffee
2 tablespoons hot water
2 cups frozen whipped topping (thawed)
3 bars chocolate-covered toffee bars (chopped)
Method
Make the brownies first by following the instructions written on the box. After they've cooled down, cut them into 1-inch cubes.
Mix together the pudding mix and milk.
Once it thickens, then add the instant coffee.
Fold in the whipped topping.
Get out your serving glasses. Put a layer of brownie on the bottom, then pudding mixture, and lastly, the chopped toffee bar pieces. Repeat as many times as you want for multiple layers.
Chill the glasses for at least 30 minutes before eating.
Try out These Coffee Dessert Recipes
With these coffee dessert recipes under your belt, you can definitely have your coffee and eat it too. You can take practically any dessert and add some depth to it with the flavor of the coffee.
Some people might call you obsessed, but who cares? When they taste the desserts you can make from these beans, they'll be right there with you, scarfing everything down. So go ahead and indulge yourself!
For more delectable recipes, please check out our dessert recipes section!
[…]
10 Tasty Dessert Recipes That Are Actually Good For You
The Best Tasting Lazy Chocolate Cookies
This post may contain automatically and manually added affiliate links, which means I might receive a small commission if you make a purchase using a link at no extra cost to you.