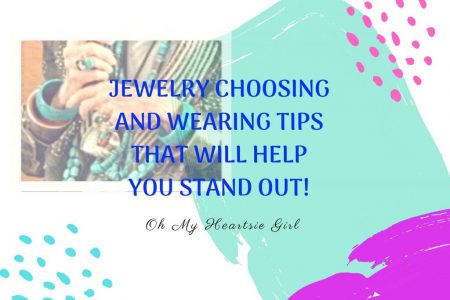 "Jewelry has the power to take people's attention to your wrinkles!" Yes, someone just said it right. To complement your existing glamour and beauty, some unique jewelry is all you need. However, this is the age of saturation when it comes to fashion. It is important that you choose something really unique that sets you apart from the rest. There are a hundred types of fashion jewelry that exist in today's time but you have to know what suits you the best in a fashion jewelry store and how to use them. Let's take a look!
Go for the detailed ornament that enhances your face
Well, jewelry offers choices in neck-pieces and earrings or might be bracelets, but ladies, there is more to it! Tiny detailed jewels have the power to make you look your best and you might not even know! Have you ever thought how you will look in nose pins? Hum….
A few years ago nose pins and nose rings were in. You can definitely count on them if you want to add a different look to your face. There are various designs of nose pins and rings that are available nowadays. Some are traditional with gold plates, heavy designs, while some look really funky, light in weight. And some that need no piercing. There are always available to buy online if that is your fancy. I'm sure there are many choices online when shopping for nose pins or rings to get them at the best prices!
Appreciate anklets to add to your look
Anklets are definitely one more unique option when it comes to pieces of jewelry. You can definitely count anklets to add a sensual and feminine touch to your entire get-up especially in the summer. They look amazing when you are wearing a half-length or slightly above ankle traditional dresses. I think a very feminine addition. There are Western anklets available too, that you can check out online. Some even choose to make anklets their twenty-four-seven jewel charm, which looks pretty and ads the feminine touch!  You will find a lot of options these days!
Look for unique styles of jewelry! – Junk, Pagan, Core Ethnic
The typical cuts, colors and designs are becoming overwhelming. It is important that you focus on other styles, cuts and trends too for that perfect look. You will see that the junk jewelry is very popular these days. What people used to perceive as offbeat, now it tends to gather interest in fashion. Most young women and millennial's are embracing junk jewelry as they throw around a casual, smart funky feeling.
The pagan jewels are also in focus, which is great if you are spiritual at heart or a nature lover. Paganism is getting popular in many nations at the present time and women are embracing the trendy side of it too. Even the online fashion jewelry stores are welcoming subtle offbeat, junk or Celtic ornaments to attract people with different tastes and preferences.
Blend your aura with the pieces you wear
Jewelry is more about caring than just wearing. Often people spend so much time, energy and money on buying jewelry. But when it comes to personal style and choices. The first trick to wear the jewels right, is to set your mind too wearing it like your second skin. You definitely have to chose jewelry that will suit your skin tone, hair color and do not appear to be contrasting shiny or too dull.
The next thing that you will do is chose a piece that is of the right size for you. There are heavy as well as light-weighted ornaments available these days. But if you are attending a special occasion, a lighter piece of jewelry would be a better choice. So pick a size that compliments your comfort level.
Choose symbols and shapes that suit you –Meaningful
Considering the best place to purchase fashion jewelry would be online. If you go to a regular store, that would not be a bad idea for sure. However, you will have a better selection when you buy your jewelry online. You can scroll through a variety of options, see the descriptions, and check the product from different angles and more. Some sites also provide you a chance to check the ornament color tones according to your very skin tone. However, one of the best advantages is that you will get access too amazing deals and discounts and many more. You will be able to clearly check out the price details and also compare them with another.
Know how to create a point of interest
Have you been to an event and felt there is a walking jewelry store saying hi to you? Well, she might have collected and worn the best jewelry of all times for the particular occasion, but ultimately it all looks like clutter! You do not want that do you? So take some time to sort through all the choices. If you are wearing a dashing big neck-piece, try to go with subtle earrings. Similarly, if your earrings are big, try to cut down on the neck piece.
Try to organize your set of bangles well on just one hand and not both. These tiny tricks reflect the sense of fashion you hold not only in choosing your bracelets. This does not mean that you always have to cut down on one. Stand back in the mirror; watch or ask somebody with a good aesthetic sense, if you are looking overwhelmed with a jewel piece. Above all, trust your instincts as a beautiful woman. For sure, you will know what looks and feels good on you!
Some other quick tips would be to go for the elongated earrings if you have a short neck or try to mix and match the jewelry that you have, choose the material right based on how you are going to use them. The tips, as mentioned above, were basic that you can use to stand apart from the crowd. But know that you are the best person to set style rules for yourself. Remember sometimes, "Less is better".
What types of bracelets are your favorites?  Do you wear more than one at a time?
[…]
More Tips for Mixing and Matching Jewelry
This post may contain automatically and manually added affiliate links, which means I might receive a small commission if you make a purchase using a link at no extra cost to you.