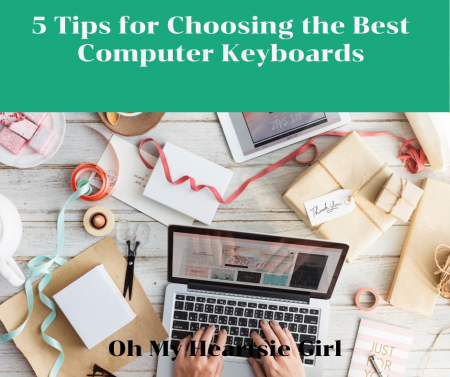 Technology has been part of each person's life for many years now. Gone are the days of writing lots of things out by hand, unless you are a true academic nerd like many old school folks out there  who write out all their notes by hand first. Even after they have written out their notes and summaries by hand, they still need to type them out. This means that they spend a lot of time in front of a computer and using a keyboard. As a result, choosing the best computer keyboard for your needs is critical. Here are five tips for choosing the best computer keyboards.

Keyboards with volume control are what it's all about.

The days of keyboards simply existing for you to use for the purposes of typing are about as dated as the dinosaurs era. Make sure that you buy a keyboard that has volume control as one of its features. It is a really useful feature as it allows you to change the volume of the music that you are listening to while you type. Talk about increasing productivity and winning.

If you are a gamer and would like to buy a keyboard designed for gaming, a keyboard with volume control is an absolute must as you will not want to interrupt your gaming experience to change the volume.

Choose a Keyboard with Style

We all have a slightly different take on what style is. If one had their way, their office keyboard would be a wide variety of colours that light up when they touch the keys. However, no boss would  agree with it as it may mess with the employee's concentration! When it comes down to personal use one can get that keyboard. There are a wide variety of styles available. Have a look and see which one meets your needs (and wants!).

Choose a keyboard with functionality

If you are going to be using your keyboard for work purposes, choose one that is designed in an ergonomic manner. This will help you and your wrists and fingers as you will probably spend a lot of time typing. If you are a gamer, there are specially created keyboards for gaming. This will definitely be what you will be looking at. Consider its use before you buy a new computer keyboard. This way you will not end up wasting your hard-earned cash.

Choose a keyboard with the right wiring

Keyboards can either be wired or wireless. The former is the best option if you need total signal at a fixed location. So, if you are choosing a keyboard for work in an office, this is the perfect option. These keyboards also tend to be slightly cheaper. However, if you are a gamer or are making use of your keyboard for music events, you will want a wireless keyboard. These are also a great option as they give you the freedom of movement that you need for those purposes. The only con is that you will not always signal that is perfect.

Choose a keyboard that is the right size

Keyboards are no longer confined to standard size. Instead, they come in a wide variety of sizes. These are designed to meet the needs of different users. Consider what you are going to use your keyboard for. You will then be able to select the perfect keyboard for your needs.

Choose a keyboard with the right price

As we enter into the next year, where a lot of people have unfortunately already lost their jobs, and the future of the economy is uncertain globally, it is important to be as frugal as possible. Keyboards come in a large range of prices. Take a close examination of what you are able to afford and purchase a keyboard within those limits. This will allow you to get the keyboard that you need, without going completely and utterly bankrupt.

If you are determined to purchase a keyboard that is slightly out of your budget, wait for a sale or for those online specials from different suppliers. Then you will be able to save a lot of money and get the perfect keyboard for your needs. It is also possible to find a good second hand if you can't afford a brand new one.

A keyboard is an often overlooked, yet essential item in many lives. Whether you are looking for a keyboard for your business or for personal use, one should aim to get the best keyboard possible with the best features at the best price to avoid disappointment.
Related:
5 Websites for Finding the Best Deals Online
This post may contain affiliate links and I might receive compensation if you make a purchase after clicking on a link.
Did you know that if you signup with Rakuten, (aka eBates) you can earn cash back, I earned $34.96 last month. You can find almost any store you want to shop at online. #earncash #ad