Growing Plants With Kids
Can Be A Rewarding Experience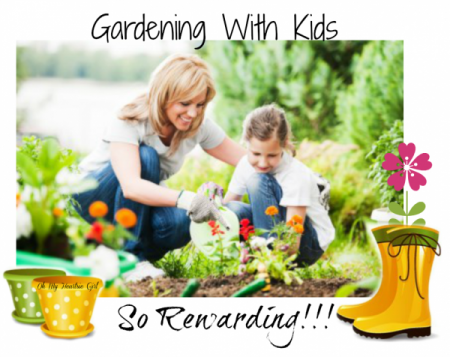 Ok so I was thinking after my article about container gardening  that I would mention its not limited to moms and dads for bigger gardens, but get the kids can get involved.
So you want to grow a garden with your kids, but you don't have a yard to do it in. That means you will need to grow things in containers, not a bad idea, makes it even easier to take care of, there will be "NO WEEDS".  But what grows well in containers that's simple and something kids will enjoy?
Simply put, pretty much any vegetable or herb will grow well in a container as long as there's enough room. But let's narrow this down to kid friendly. Here are the ten best plants that you can grow in containers with your children. Here are some great ideas to get your started.

9 Great Plants To Use When Growing in Containers
* Tomatoes – This is probably the most popular choice for growing in containers. Tomatoes are easy to grow; they can even be done from a hanging container and grow upside down. Using good soil and the right amount of water is what's needed to make tomatoes grow well in containers.
* Potatoes – You can grow a large amount of potatoes in containers like compost bags or a large tub or buckets. If you would like to see more on how you can use a bucket to plant potato's, I found an example over at Instructables Growing Potatoes In Buckets
* Cucumbers – These are easy to grow in containers, but they need the right conditions. They grow best in warm temperatures so don't plant until early summer for best results.
* Carrots – These are so simple to grow and do really well in containers. So they're a really great starter vegetable to grow with children.
* Blueberries – These grow well in containers, but only with the right conditions. They ripen best in heat so they're best saved for the summer. They require rain water too, so grow them outdoors unless you are able to collect the rain water in something. They won't do well with tap water.
* Parsley – This is great in a window box. It takes a while to germinate though and requires heat. Also, be sure to use a rich soil.
* Basil – Put it in the window box with parsley, but be warned: this does not do well at all with cold. So make sure there is not going to be any frost. Basil has a few weeks' germination time, though, so it grows quicker than parsley.
* Radish – This is probably the easiest vegetable to grow in a container and will really get the kids excited. So this is the perfect choice.
* Lettuce – This is actually a great choice for growing in containers. Water in the morning and make sure it is kept in the shade and you'll have a quick and easy plant in a container in no time.
* Flowers – It doesn't have to be vegetables alone that you plant in containers. Potted plants such as geraniums, petunias, mums, and sunflowers are great in a pot and something kids will love to help cultivate.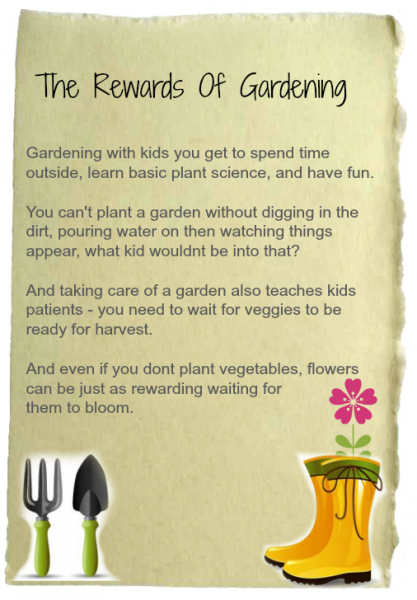 Planting anything with kids can be a whole lot of fun and very educational. Getting kids to eat more vegetables, then planting some sort of garden will be a huge help in that. Letting them get their hands dirty and eating the food they grow is a huge incentive for even the pickiest of eaters.
'As you can see, lots of plants are not fond of the cold weather of winter, and it's such a shame if your kids can't experience gardening tasks just because of that. So how about moving under the roof and grow some indoors? That way, all the difficult conditions before can be adjusted as you please since an indoor plant is easier to protect from pests, you can control the amount of water and nutrients your plants consume and even the light can be monitored through the convenient LED Grow Lights.'


So don't think just because you don't have a lot of room you can't create some sort of garden. Hanging tomatoes and window boxes and small containers on your kitchen counter with herbs and including some containers on your porch of radishes and potatoes and you're off to a great start gardening with the kids and getting them to try more fruits and vegetables.
But if growing outdoors wont work for you, learn how you can "Enjoy growing vegetables indoors all year long with the Miracle-Gro AeroGarden"
What have you grown in containers before? Do you think your kids would enjoy gardening?
If you enjoyed this article you might want to check these in my Garden Series:
Successful Indoor Outdoor Gardening Guide for Absolute Beginners
In addition you could also teach your kids about Re-Growing Vegetables using vegetable scraps from your kitchen. Such as Lettuce, Celery, Lemon Grass, Fennel, Basil, Cilantro, Bean Sprouts or re-growing root crops such as potatoes, Sweet Potatoes, Ginger, Onions, Green Onions, the list goes on and you can read all about those and how it is done on And if you need a guide check out Vegetables That You Can Regrow Again And Again From Scraps and one more 30 Insanely Clever Gardening Tricks
Related articles
My post was shared on Grammy's Grid
Shared On:
Tuesdays With a Twist
The Creative Collection Party
It's That DIY Party!
DIY – Do it Yourself Linky Party
Happiness Is Homemade Link Party
Inspire Me Mondayy
Simple Saturdays
Really Crafty Party
Home Sweet Home 316
Flaunt It Friday
Sweet Inspirations Linky Party
One More Time Events
Saturday Fest Linky Party
Snicker Doodle Party
Inspiration Monday Party
This is How We Roll Linky Party
Share Your Style Link Party
This post may contain affiliate links and I might receive compensation if you make a purchase after clicking on links