Completely different cultures all around the world celebrate some of the same major life events, such as weddings, births, funerals. It's amazing to take a look at the different and similar ways people around the world. honor these events.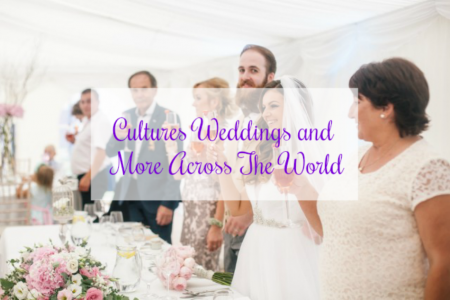 Marriage
Rwanda: Whereas in the US it's popular to hire out high-end wedding venues, in the East African country of Rwanda, the wedding ceremony takes place at an aunt's house. After the heads of households consult among each other, the groom is introduced to the congregation and the bride's family presents her dowry: cows. The number of cows signifies the bride's worth. After this comes the bridal procession, which is a collection of dancers and women and of all sorts of ages carrying gourds of milk. The bride wears a mushanana, a long, silk wrap dress with a sash. After the wedding, the bride is traditionally carried on the shoulders of strong men to the groom's house, where a banquet is held in their honor. Rather than embarking on a rejuvenating honeymoon, the wife moves into her house, where she presents her first meal to her husband's family.
Pakistan:
The many rituals surrounding a Pakistani wedding may take place over days to months! Weddings are extremely colorful and elaborate. The bride is presented to her groom with her face completely covered, and he ceremoniously removes the view. Over the next few days, lots of other ceremonies follow, such as covering the bride and groom in henna and oil, dancing, music, sweets, and presenting scarves to family members. Then there's a ceremony called the Baraat, which is a processional walk the groom and his party takes to the bride's home, where they are met by the bride's family. The final ceremony takes place after the bride and groom have, um, consummated their vows. Rather than wear white, Pakistani brides often don the royal colors: red and purple.
Death
Indonesia: In Tana Toraja, funerals are a raucous community-wide event, and can last for days. Families save up to afford a lavish funeral–which means the funeral may take years after the person actually passes away. Until the funeral, the deceased is simply referred to as "one who is asleep" or as a "person who is sick." Whereas in the US we send the body immediately to our chosen funeral home, the deceased in this part of Indonesia are laid out in the family home and symbolically cared for until the funeral.
Mongolia and Tibet: In these strongly (Vajrayana) Buddhist countries, the body's oneness with nature is emphasized in the way the deceased are disposed of. Once the spirit departs, the body is an empty vessel and must be returned to the earth. Traditionally, bodies are dissected and cut up into pieces. They are placed on a mountaintop, fully exposed to the elements and to animals–often, the bodies are simply fed to the vultures. This form of burial is called a sky burial. Other believers choose to return their bodies to the earth via cremation or water burial. About 80 percent of Tibetans still choose sky burial, because it aligns with their sensibilities of compassion.
[…]
6 Steps to Choosing your Wedding Photographer
How To Save Money On Your Wedding