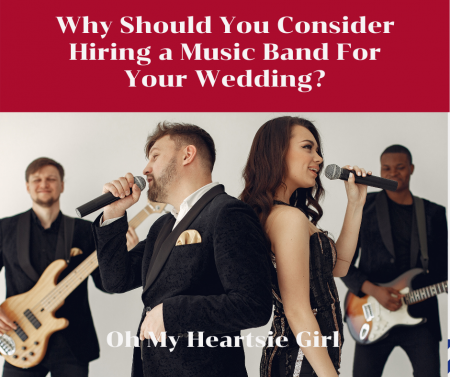 Are you feeling excited about your D Day preparations? Well, after all, there will be so many guests with their eyes set on you two on the stage, and then, they will be dancing and grooving all for you when the music plays. It must feel like absolute fun. Just make sure the live music performance is rocking. It will help create the right mood for ceremony, cocktail hour, and reception. From the first dance to the last song, everything will add a memory to your moments.
If you don't want to take any risk with these, then consider giving this responsibility to a professional live band. The experienced musicians can ensure that everything happens as per your taste and liking. There are various other reasons also why most people advocate choosing professional wedding bands. Let's get into them one by one quickly.
Creativity
There is no doubt about it that talented musicians and artists can give a priceless performance. When you witness solos on keyboards, guitar, and drums, the whole atmosphere transforms into a thrilling experience. But to be able to create such an impact, the band should also be creative enough to hit the right chords according to the situations. And with experienced players, you don't need to take any pressure around this.
Live excitement
An energetic live performance can remain etched in the memory of the people for years. And those who can keep their audience entertained and engaged for hours can make the whole experience memorable for you two and your dear ones. When experts perform, you can feel the raw energy all around and bask in the high octane show by flooding the dance floor with others.
Entertainment
When a music band plays, the audience gets immediately drawn to it. Whether or not they dance, they at least have something great to watch and look forward to in front of their eyes. The expansive repertoire of the band will have all sorts of the playlist so that it can involve all the guests regardless of what they like. Some groups even play music on-demand or request without additionally charging for it. Anyway, you've got to verify it before you finally onboard someone.
Emcee
It is a common misconception that you might have to look for a DJ or emcee separately for making announcements. If you get the right music band for your wedding, you will not have to worry about it. The group itself would take care of this part. It will ensure that all the announcements have a classy and articulate touch to them so that the whole event goes smoothly. With them, you don't even need to bother about sound management. They will make sure the music and sound levels are just perfect.
So, what are you wondering? Live performances of music and dance can give your wedding the right mix of passion and enthusiasm. If you want your guests to enjoy their time as much as you two, then give a thought to this option.  You can get excellent local choices in Connecticut, New Jersey, and New York City.[…]
Wedding planning – Crucial Mistakes a Wedding Planner Should Avoid
Ultimate Guide to the Best Bachelorette Party