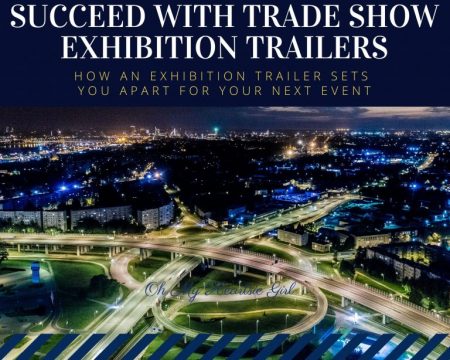 Nowadays, marketing experts are trying to utilize every single thing for promotional purposes.
Whether we're talking about, mugs, pens, t-shirts, or some more significant objects, companies are trying their best to put their name on everything. It makes sense: as more people see your message, they will be more inclined to buy your products and service.
The same goes for exhibition trailers.
Although these vehicles are not as common as some other promotional methods, they still serve a purpose. They are great for open-air festivals, expos, and every other event during which you have enough parking space for a trailer. 
Here are five of the reasons why they're so great:
They provide a lot of mobility. You can go from a city to a city, spreading your message. This makes them one of the best promotional methods for new companies that don't have a substantial marketing share. However, they can also work great when an established company wants to promote a new product or a service

Due to their mobility, exhibition trailers are a great way to connect with a targeted audience. You can go to specific points of interest where it's most likely that your brand will make an impact. Of course, you can still try to maximize the audience by visiting every city or village along your route

Unlike some other promotional methods, exhibition trailers are very personal. When parked, they serve as an exhibition spot where potential clients can reach company representatives. In a way, are used as mobile sales reps

Given that exhibition trailers are still not that common, they give you a slight edge over the competition. This promotional method is relatively underutilized which means that if you decide to buy or hire an exhibition trailer, you will likely create an advantage over your competitors

Perhaps the biggest advantage is the fact you can adapt the trailer to your particular needs. Given that there is a lot of space inside of these trailers, you can arrange the interior in any way you see fit. So, branding will definitely be an issue
What are the main things to keep in mind when using a trailer?
Simply buying or renting an exhibition trailer is not enough. You need to utilize it the right way. Like any other promotional activity, there are do's and don'ts that you need to keep in mind. Here are some of the best tricks you can use:
There are lots of reasons why size is important when it comes to trailers. Our first instinct is to get the biggest trailer possible. While there is some merit to this and it definitely shows the power of a brand, big trailers are not always ideal. Keep in mind that you need to park these vehicles somewhere. So, depending on the usage, you will have to consider different sizes
Although the exterior is a great way to promote your brand, it is the interior where the magic happens. You will need an impressive interior design to lure the clients. One of the crucial things is having a good AC. Given that the exhibition trailers are often used during summer, you will have a cool-off space. Without AC, don't even think about starting your campaign 
As already mentioned, one of the biggest advantages of trailers is the fact you can create a direct connection with potential clients. This is pretty awesome, but it also leads to certain risks. For example, if you don't have the right salespeople, you can easily squander a good opportunity and stand out. So, make sure to assemble a team that can sell on the spot and converts potential clients to customers.
[…]
4 Tips How to Turn Your Passion into a Business
How You Can Select the Ideal Venue for Your Business Conference or Seminar
This post may contain affiliate links and I might receive compensation if you make a purchase after clicking on a link.