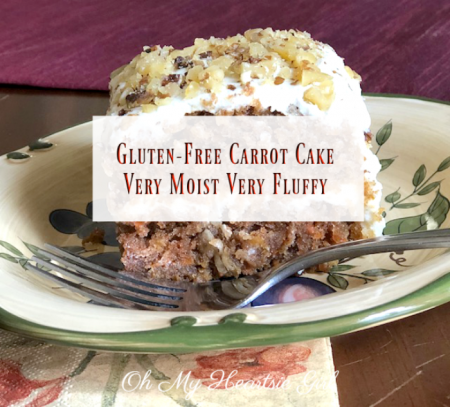 I just have to share this recipe, it is absolutely amazing and tastes almost identically to a carrot cake recipe I made all my life, however, this recipe has a secret and I would have never believed that changing one ingredient (well a mixture) could make this fluffy, moist and great tasting. I could fool my kids, in fact for Mother's Day I made it to serve as a dessert after our BBQ and my sons girlfriend and her kids had no clue that this cake is glutenfree and made with a flour mixture that has sweet white Rice flour, Brown rice flour, potato starch, white sorghum flour, tapioca flour, and Xanthan gum but its all in one mix, I use "Bob's Red Mill 1 to 1 Baking Flour". 
You can use this literal cup for cup in recipes that you have been using wheat or white flour. So many people are finding out that eating wheat causes all sorts of problems, celiac disease, bloating and a whole other topic.  And in November I switched to gluten-free baking and I have lost 26 pounds. I make my own bread with another gluten-free grain called Teff flour, which is really good for sandwiches,  you can check that Brown Sandwich Bread with Teff Flour Gluten Free.
As you can see the recipe still calls for regular sugars so I'm going to experiment next time and try some alternatives like coconut sugar or erythritol. Coconut sugar can be used in place of white sugar in recipes cup for cup, but there are so many other options. Here is a chart for options from Bigger Bolder Baking
So about this Carrot Cake, it has a good crumb and does not have a gritty texture like some gluten-free recipes that call for almond flour or coconut flour and it is super moist as you would want a carrot cake to be.  But let me tell you, this cake is absolutely delicious with a traditional cream cheese frosting and chopped walnuts on top.
I don't have the round cake pans, so I made 2 square 8″x 8″ cakes and stacked them. And if you like a lot of icing you might want to double the icing recipe. I like just the amount the recipe makes and it was plenty. I reserved more for the top and less between and used more on the top and sides It was just right for me and no one said a word.
When mixing the cake it is important not to use a Kitchen-Aid or any kind of electric mixer for this recipe, the reason is your cake will not turn out fluffy. There are tricks when using gluten-free flours and I found a good source of tips on America's Test Kitchen; Keys to Successful Gluten-Free Baking   And another hint, I like to leave the cake on counter for about 5 minutes before baking as it gives the baking soda and baking powder a chance to start raising to give that fluffy texture.
When baking the cake I used parchment paper to line the pans after spraying the pans so I could lift them out to cool.
I waited about 5 minutes and then carefully lifted the cakes out of the pan onto cooling racks. You want to make sure your cakes are completely cool before frosting.
After you icing, the cake put it in the fridge to chill and keep remaining cake thereafter serving, if there's any left. I did send a large section home with one of my son girlfriends son, he loved it!!! And I didn't want to have too much leftover, because I would eat it all!! 
1 cup white sugar
½ cup brown sugar, packed
1 cup canola oil or vegetable oil
3 eggs
2 cups Red Mills gluten-free baking flour
1½ teaspoons baking powder
1 teaspoon baking soda
½ teaspoon salt
1 tablespoon cinnamon
½ cup buttermilk
1 tablespoon pure vanilla extract
2-3 cups carrots, finely shredded (I used a little over 2 cups)
½ cup pureed carrots (I cooked carrots and put in food processor)
½ cup sweet coconut flakes, finely shredded
FROSTING (double the recipe if you like a thick layer of frosting)
8 oz cream cheese, room temperature
4 tablespoons butter, room temperature
2 cup confectioners sugar (may need more to thicken if desired)
1 teaspoon pure vanilla extract
1 cup walnuts, chopped
Directions:
Preheat oven to 325 F.
Grease cake pans I use parchment paper in pans (or grease and flour pans) Set aside
In a large bowl cream together oil, sugars, and eggs. Set aside.
In a separate bowl whisk together flour, baking powder, baking soda, salt and cinnamon.
Gradually add the dry ingredients into the wet ingredients, alternating with the buttermilk.
Mix just until fully combined. (careful not to over mix) [Do not use a mixer]
Fold in shredded & pureed carrots, coconut flakes and vanilla extract.
Pour batter evenly into prepared pans.
Bake for 20-25 minutes until center is set. (do not over bake!)
Lift cakes carefully out of pan and set on cooling racks or place pans directly into freezer to cool.
While cakes are cooling prepare the frosting by first creaming together the butter and cream cheese.
Add in the confectioners sugar and vanilla extract.
Mix until silky and creamy. Add more sugar if a thicker texture is needed.
When cakes are cooled remove them from pans and frost, sprinkling the tops with walnuts.
Now, if you make this recipe you have to let me know if you try it and think its as good as I do. This recipe was adapted from Divas Can Cook and I can tell you she is spot on with her recipe and she has great hints for other moist cakes and desserts.