Today starts the President's Day FREE SHIPPING event (2/15 to 2/17) here at Jane. Deals on women's clothing, accessories, Kids and baby, shoes, sandals,  home decor, Pets, Men's and they offer Personalized items as well.
This post may contain affiliate links and I might receive compensation if you make a purchase after clicking on a link.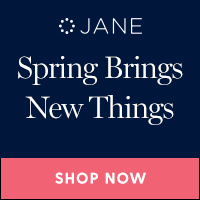 Presidents Day and there are always great sales and
there's something for everyone!
Was $49.99 – Now $23.99 – Sparrow Knit Cardigan | Free Shipping (2/15 to 2/17)
Was $30.00 – Now $17.99 – St. Patrick's Day Tees | Free Shipping (2/15 to 2/17)
Was $64.99 – Now $49.99 – Frayed KanCan Jeans | Free Shipping (2/16 to 2/18)


Was $69.99 – Now $34.99 – Trendy Stitch Espadrille Sandals | Free Shipping (2/16 to 2/18)
Was $42.00 – Now $24.99 – Ruby Top | XS-3XL | Free Shipping (2/17 to 2/19)
Was $64.99 – Now $27.99 – Comfort Sole D'orsay Pumps | Free Shipping (2/17 to 2/19) 
And if you are interested in seeing cashback each month by shopping 1000's of stores check out
eBates Which is now Rakuten | Receive a Percentage Back