Image Source: Unsplash
Autumn is the perfect time to go shopping with all the latest fashions coming available. It is the same with jewellery and clothes. If you are keen to pair up new accessories to your outfits this autumn, there are many options when looking for the perfect jewellery to add to your collection. Below are some of the latest trends for autumn 2021 that will look fantastic, and you can wear with many different outfits.
Chandelier Earrings
Chandelier earrings have been popular for a long time, but many jewellery designers are pushing this style this autumn. With the price of gold being so high, many designers are switching to cheaper precious metals, such as silver, so affordable options are available. You can find some excellent examples of chandelier earrings on a trusted jeweller's website that will look perfect on you.
Short Necklaces
Fashion goes around in circles, and the time of the short necklace is back. Many people are looking for understated jewellery that is not too flashy. There are some excellent short necklace examples such as those solid silver choker necklace designs. You can wear them with a casual outfit or something formal as they are available in various metals which can easily complement your outfit. You can get gold, silver, platinum, or one made from beads and organic materials. There is plenty of choices of short necklaces available, so there is something suitable for everyone.

Image Source: Freepik
Stacking Bracelets
 The stacking bracelet trend has been here for some time, and autumn 2021 is no different. Whether you can afford to invest in gold bracelets or prefer something that is simpler, you can wear multiple bracelets and stack them on your wrist, ensuring you look trendy this autumn. Flash colours are in, but so are simple designs using affordable materials such as beads and wood, so you can find something suitable on almost any budget.
Single Earrings
 Another trend that we see popular this autumn is wearing a single earring, usually in an elaborate design. You can wear it on your left or right, whichever you prefer, and it can be striking depending on the style of earring you are wearing. It is better to choose a larger design of earrings that makes a statement, rather than smaller ones, which will make you look like you forgot to put one earring on to observers.
Bold Statement Earrings
 Large bold statement earrings are also proving popular for autumn 2021, and you can go to town wearing these types of earrings. You can select from many designs and opt for large hoops, big chunky earrings, or ones that dangle below the level of your jaw. They will need to be a striking colour that contrasts with your outfit, and they can help you stand out from the crowd this autumn.

Image Source: Unsplash
Large Gemstone Jewellery
 There is also a resurgence in the popularity of large gemstone jewellery, which is proving popular for autumn 2021. You can opt for precious or semi-precious jewellery, and you can also achieve a similar effect using coloured glass, making the jewellery much more affordable. However, you will not want to go overboard. If you are going to wear large gemstone jewellery, one item will do rather than multiple items.
[…]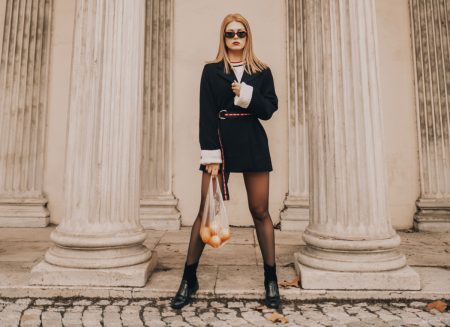 How To Make A Statement With Accessories