These are the easiest Pecan Pumpkin Muffins and here is a recipe using pumpkin to bake, and it has a wonderful crumb topping, dont you just love those.  I always find them at Mimi's Cafe. Enjoy!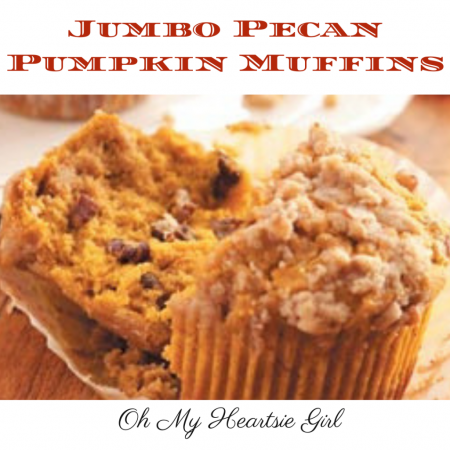 Ingredients
2-1/2 cups all-purpose flour
1/2 cup sugar
1/4 cup packed brown sugar
2 teaspoons pumpkin pie spice
1 teaspoon baking powder
1 teaspoon baking soda
1/2 teaspoon salt
2 eggs
1 cup canned pumpkin
1/2 cup buttermilk
1/4 cup canola oil
1 teaspoon vanilla extract
1/2 cup chopped pecans
TOPPING:
1/3 cup packed brown sugar
1/3 cup finely chopped pecans
1/4 cup all-purpose flour
1/4 cup cold butter, cubed
Instructions
In a large bowl, combine the first seven ingredients. In another
bowl, combine the eggs, pumpkin, buttermilk, oil and vanilla. Stir
into dry ingredients just until moistened. Fold in pecans. Fill six
greased or paper-lined jumbo muffin cups three-fourths full.
In a small bowl, combine the brown sugar, pecans and flour; cut in butter until crumbly. Sprinkle over batter.
Bake at 375° for 25-30 minutes or until a toothpick inserted near
the center comes out clean. Cool for 5 minutes before removing from
pan to a wire rack. Serve warm. Yield: 6 muffins.
Notes
Since I have only made the recipe once, next time I would like to try applesauce in place of the white sugar and I would make these into smaller muffins cutting the calories per serving.
Still get that same great taste in smaller serving if you can control yourself. Me...hum, its the crumb topping that I like!
Hint I have recently read in recipes, use some brown sugar to sprinkle on top of the muffins it crystalizes and makes a crispy top.
Also if you dont have buttermilk you can use 1/2 milk or almond milk and 1 tsp. lemon juice.
Also if making small muffins I used 400 degrees for 15 minutes Large Muffins 375 for 25-30 minutes when toothpick inserted comes out clean. You know your oven so these are suggestions from my experience
https://ohmyheartsiegirl.com/pecan-pumpkin-jumbo-muffins/
Twitter | Bloglovin | Facebook | Pinterest | Instagram
Signup For Latest-You Choose Updates
I found this recipe while I was visiting Taste Of Home
This post has affiliate links, which means I might earn some cash if you click on a link, with no cost to you.