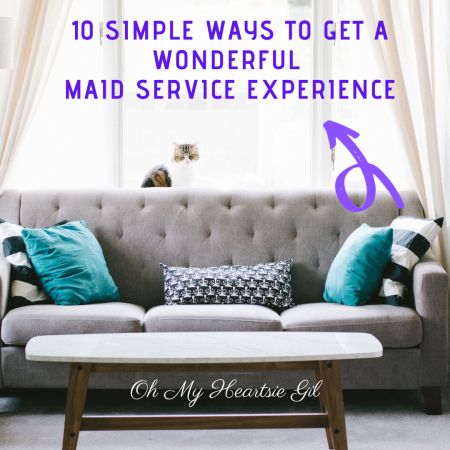 Keeping your home clean can be a difficult task. That's why the percent of American households that have a maid service rose from 7% in 2004 to 10% in 2018. Cleaning is a large task and that has become even more true in 2021.
With the help of our friends at Homeer, who provide a Texas maid service, we are covering the top ten things you can do to make sure that you get the best maid service experience possible.
1. Make sure the water and power at your home are running at your home.
Needing water and power may seem obvious, but with so many things in life it can be easy to forget about.
While this step does not have an in-depth analysis, it is a very important part of preparing your home.
2. Put your pets in a kennel or outside
Pets are amazing, but they do come with one downside. Hair and paw-prints covering everything. The last thing you want is to schedule a maid service and then see paw-prints covering your floor when you get home.
This is why Homeer recommends keeping every pet off the floors until the floors have dried. With dry floors you don't have to worry about tracks left behind and you can resume what you were doing.
3. Pick up things off the floor
The one thing a professional maid will never know is if a piece of clothing is clean or dirty when found on the floor. To receive the best maid service possible you should always pick up loose clothing.
4. Schedule the maid service for the absolute best time possible
Choosing the right date and time for your maid service is vital to having a wonderful experience.
Having a maid service clean your home doesn't have to and shouldn't be difficult.
It doesn't matter how great a maid service is, if you get stuck with a date and time you didn't want you will have a bad time.
5. Check that your maid service has a 100% Satisfaction Guarantee
In the cleaning industry it is common to find a satisfaction guarantee that comes with every single cleaning.
The majority of the companies operating with a satisfaction guarantee are confident in their ability to deliver perfection. So confident that they will guarantee it before you've even scheduled your cleaning.
This is the type of maid service you want.
6. Choose a maid service that utilizes flat-rate pricing
* The time it takes to clean a home can vary.
* The items cleaned from cleaning-to-cleaning can vary.
With a maid service that utilizes flat-rate pricing it's far easier to know your final cleaning total as well as everything that will be clean.
Plus you know your price won't change due to special circumstances. Another benefit of flat-rate pricing is that it's far easier to refer your maid service.
7. Only have one service crew in your home
Performing maintenance on your home and moving in/out are both stressful times of life. That stress becomes much bigger when coordinating the schedules of many service businesses.
You should always plan on the final touches of a service taking a little longer than expected. By doing this, you may have a day or two of downtime between services, but you maintain the assurance that each service will be done to perfection.
8. Determine the best package for your needs
Knowing what package to schedule for your maid service can be difficult. Especially when you don't have professional cleaning experience or knowledge. There's no reason you should expect to determine this answer all on your own. There's especially no reason to blindly trust what package is best just by the name.
There are two easy ways to determine the absolute best package for your maid service cleaning.
1. Call the maid service you're interested in and discuss the situation and what kind of help you're looking for.
2. Head to the Homeer home cleaning package quiz:
With this quiz all you have to do is answer a few questions and you will immediately know precisely which cleaning package best fits your desires. There's no need to spend hours doing research attempting to find the right cleaning package. There's no need to go in blind when contacting local maid services. Instead, you can place your first call knowing exactly what type of cleaning you need and the exact items you want included.
There's no reason to guess when you can guarantee a wonderful maid service experience by taking just thirty seconds to answer a few questions.
9. Provide a change of linens for the beds
There's nothing quite like sliding into a bed that is tightly made with clean sheets. Especially when you weren't the one that had to go through the effort of pushing those new sheets on.
You don't have to worry about taking off the old sheets, you don't need to worry about anything. Toss the new sheets on the bed and your maid swap out the sheets!
With clean sheets you can also keep your face much cleaner at night. Another major benefit is that your bedroom will smell far fresher!
10. Ask all the questions you have
Finally, the last step is to ask all the questions you have.
It will always be best to ask your questions as soon as you think of them. There's no reason to hold on to them or think they don't matter.
If you have a question about the cleaning a maid service will deliver, they will be happy to answer all your questions. There's no exceptions here.
If you chose to follow the advice of just one of these steps, this is the one I would recommend.
By asking your questions you will always receive a better cleaning and there is no way to change that. It doesn't matter how great a company is or what they can offer. If you don't ask your questions to make sure they're the right company for you, there's no way to promise that they are.