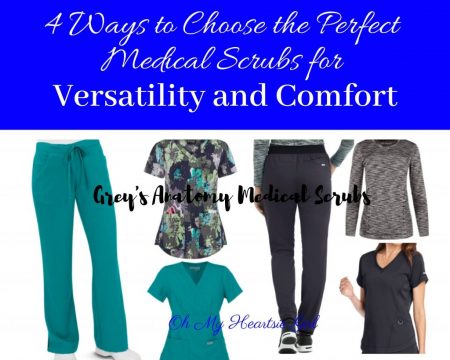 Finding the perfect medical uniform is essential to focus on important tasks without feeling uncomfortable. That's why scrubs are a common choice for medical professionals. They are breathable, lightweight, stylish, and easy to wash. Most importantly, they allow you smooth movement while managing your work shifts throughout the day.
Several brands have entered the market of medical scrubs. But, Grey's Anatomy scrubs trump them all in terms of comfort and flexibility. Before you look to buy them, here are a few things to remember:
Focus on Comfort and Suitability
When it comes to the selection of appropriate medical scrubs, it is better to focus on quality and comfort more than anything else. Scrubs see a lot of work throughout your shift. Hence, select breathable and flexible fabrics that are soothing to your skin. Stretchable fabrics like spandex are appropriate as they offer a perfect fit.
Here, your work setting also makes a difference. Choose the scrub that suits your job. While in an ER, you need scrubs offering more coverage, you may choose the scrubs with consultation length for clinical practice.
Choose the Right Pattern
As a medical practitioner, your main focus is on your duties. But, looks also matter even in your hectic life. Remember, your patients will first see your uniform when you approach them. So, choose a pattern that's vibrant and pleasing to the eyes. If your hospital has dress codes to wear solid colors only, you can choose Grey's Anatomy scrubs in a variety of colors. 
But, if you are working in a clinical setting with the freedom to choose your uniform, you may go for tasteful and colorful prints or designs. Though prints look perfect for doctors and nurses in pediatrics, they may look professional for other departments as well if you make the right choice. 
Select the Right Color
Historically, medical professionals would prefer white color in their uniforms. But, over the years, trends changed. Research says that cyan or green scrubs are a better choice because it's easier to wash off the bloodstains and other spots from colored scrubs.  
Also, these colors help the surgeon to see better without causing eye strain or visual fatigue. Hence, modern medical scrubs come in a variety of color options; blue and green are still popular choices. However, medical techs and practitioners can also opt for shades like pink, brown, maroon, purple, or black. 
If there is no color code or dress code in your workplace, choose whatever will make you feel comfortable and confident. Remember that darker shades are soothing to your patients, though.
Choose the Perfect Fit
The medical uniform doesn't need to be ill-fitted. That's the reason why familiar products like Grey's Anatomy Scrubs make a variety of seams and cuts to suit every wearer. While women's scrubs have a narrow cut around the waist, men's scrubs are broader at the shoulders with large sleeves. 
You can also go for personalized fit if you want your uniform to allow ample room to keep you active and quick while working.
Lastly, choose scrubs with multiple pockets to keep you organized and carry all your necessary stuff along. 
[…]
How to Build an Active Lifestyle Capsule Wardrobe