I have been looking for a product that will help alleviate pain in my shoulder (torn rotator cuff) and thumb joints, while a product that is a gel called Voltaren gel that is actually ibuprofen in a gel form works great and helps with the pain it is extremely expensive. Up to $70.00 per tube, ouch!!
I have also use another product called BioFreeze, this one is not nearly expensive but I dont always like the cooling effect it has, especially in the summer. But it does work well.
I wanted to share my opinion about this product and was not compensated for my honest review.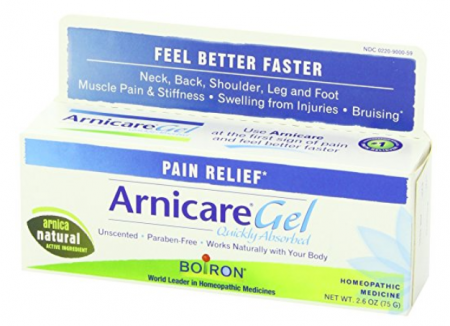 Then came Boiron "Arnica Gel" for Pain Relief, 2.6 Ounce, Topical Analgesic for Neck Pain, Back Pain, Shoulder Pain, Leg and Foot Pain, Muscle Pain, Joint Pain Relief, Arthritis. Natural Active Ingredients. And the availability of Arnica Gel is available at Walmart, Target, CVS, Walgreen's and anywhere from $6-$7 not upwards to $70.00!
Arnica is applied to the skin for pain and swelling associated with bruises, aches, and sprains. It is also applied to the skin for insect bites, arthritis, muscle and cartilage pain, chapped lips, and acne.
I am sharing more detailed information from Amazon than I can explain:
About the product
♦  Before pain gets in your way, treat it naturally at the first sign with Arnicare and feel better faster. Arnicare helps to relieve muscle pain and stiffness and to reduce pain, swelling, and discoloration from bruises. Arnicare Gel has a cooling effect for fast pain relief. This non-sticky, non-greasy gel is quickly absorbed by the skin. Arnicare Gel works best when applied at the first sign of pain.
♦  Arnica montana (or Mountain daisy) has been used for centuries as a natural pain reliever, and today, it's one of the most popular homeopathic medicines in the world. Arnica is trusted by professional athletes to soothe sore muscles, by prominent cosmetic surgeons to relieve post-procedure pain, and by savvy moms to treat playground bumps and bruises.
♦  Arnicare Gel's natural active ingredient, Arnica montana, helps to relieve muscle pain and stiffness and to reduce pain, swelling and, discoloration from bruises. This pain relief gel is unscented and paraben-free.
♦  Arnicare Gel works naturally with your body, and there's no risk of overdose, no contraindications, no known drug interactions, and a very low risk of side effects when used as directed.
♦  Arnicare can offer relief for joint and rheumatic pain associated with arthritis. Whether you're looking for whole body pain relief or targeting a few problem areas, Arnicare can help.
♦ Arnicare does not have a strong order, in fact it is not scented
♦  Arnicare Gel is considered a "Homeopathic Topical Analgesics"
I enjoy using Arnicare Gel as a topical analgesic for my shoulder and thumb joints, it helps with the pain, especially in the morning when I first wake up and everything is stiff. And I would recommend giving it a try.