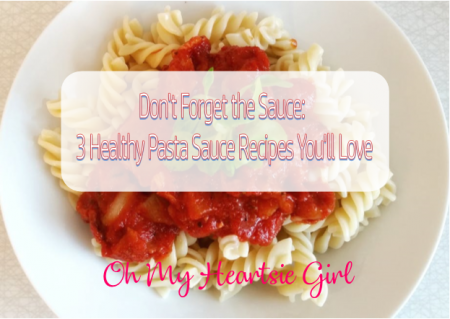 Did you know that the word pasta translates to "paste" in Italian? It's a reference to the dough, which is made using flour, water, and sometimes eggs. A simple recipe that's been around for centuries, pasta continues to be a food staple all over the world and considered comfort food.
But pasta is rarely if ever, eaten by itself. Its accompaniments are what add to its deliciousness. And nothing is more satisfying than homemade pasta with a healthy but yummy pasta sauce.
When you buy sauce from the grocery store, chances are there are many additives, including sugar. If you opt to make your own, you have the power to make sure it's both delicious AND healthy.
Read on to discover three healthy pasta sauce recipes.
1. Linguine with Spinach Sauce
Popeye was right. What's healthier than spinach? It's packed with folic acid, vitamin A, vitamin C, fiber, calcium, magnesium, and lots of other nutrients. It's been known to help protect against heart disease and high blood pressure.
For this sauce, all you'll need is garlic, spinach, and parmesan cheese!
Start by sautéing 3 to 4 garlic cloves (sliced) in a couple of tablespoons of olive oil. Once they begin to brown slightly, add 2 cups of fresh spinach leaves. Sauté just enough that it begins to wilt.
Add salt, pepper, and then put it aside.
While it cools a bit, cook your pasta. And remember that you don't have to use linguini. In fact, this sauce is delicious with almost any pasta!
Make sure you reserve a cup of the boiled pasta water before you drain it.
Set your drained pasta aside and go back to your spinach. Take your spinach and garlic mixture and put it all into a food processor. Add a half cup of the reserved water and a half cup of grated parmesan cheese.
Puree it until it forms a sauce, and then add it back into the pan with about a quarter cup of the remaining pasta water. Once it's heated through, give it a taste and add more salt and pepper if necessary.
Serve it over linguine or your favorite pasta and sprinkle with some parmesan cheese!
2. Angel Hair Avocado Pasta
Avocados are amazing. Whether you eat them as is, blended in a smoothie, or in guacamole, avocados are absolutely delicious. Plus, they are jam-packed with nutrients like riboflavin, niacin, folate, pantothenic acid, magnesium, and vitamins C, K, E, and B-6.
And even though most of the calories come from fat, they are GOOD fats, so don't shy away!
Cook your angel hair pasta or a pasta of your choice and set it aside, drained.
To make your sauce, combine the following ingredients into a food processor:
2 cloves garlic
1/2 cup fresh basil leaves
2 tablespoons fresh lemon juice
2 ripe avocados (without the skins and pit)
Once it's blended, add salt and pepper to taste and 1/3 cup olive oil and blend again.
Get a large mixing bowl and put your pasta in it. Add your sauce and mix it up. Then add 1/2 cup cherry tomatoes, halved, and 1/2 cup of corn, drained.
Mix it all together, season with additional salt and pepper if needed, and serve immediately!
This dish can be completely vegan, or you can top it with some shaved cheese for an added bite. Add grilled chicken or salmon for protein!
3. Healthy Cauliflower Fettuccini Alfredo
What's better than Fettuccini Alfredo? Almost nothing… It's one of the richest, savory, comforting pasta sauce recipes out there. That being said, it's not necessarily the healthiest dish.
But using cauliflower for the sauce, it can make for a nutritional dinner. Cauliflower is high in vitamin B and fiber. It also provides antioxidants that help protect against cancer.
For this dish you'll need the following ingredients:
1 pound fettuccini noodles
3 small heads cauliflower
1 tablespoon butter
6 cups vegetable broth
5-6 cloves garlic, minced
1 teaspoon salt
pinch of nutmeg and black pepper
1 tablespoon olive oil
1/4 cup heavy cream
1 cup pasta water (the boiled water after cooking your pasta)
Bring the vegetable broth to a boil. Chop your cauliflower and add it to the boiling broth. Cook it until it's soft (after about 15 minutes).
In another pan, melt your butter and sauté your garlic until it's soft and fragrant (about 5 minutes).
Cook your pasta set it aside, and save some of that pasta water.
Take your cooked cauliflower and add it to a blender with about 2 cups of the broth that it cooked in. Add the sautéed garlic and your salt, pepper, and nutmeg. Blend it until it's sauce consistency. Add you olive oil and blend again. If your sauce is too thick, you may add some pasta water or some more vegetable broth and blend until you reach the consistency of your preference.
Once your mixture is smooth, transfer it back to the pan where you cooked your butter and garlic. Add the cream and cook it over low heat. Keep it warm until you're ready to eat it! And once you are, add it to the pasta and serve immediately.
You can sprinkle it with cheese if you like and ground black pepper.
If you want to go ALL OUT with this meal, use homemade pasta instead of store-bought.
Knowing How to Make Healthy Pasta Sauce Can Change Your Life
Pasta is one of life's gifts that everyone should be able to enjoy. But if you're trying to lose weight or have an intolerance, you can still enjoy it.
Knowing how to make a delicious healthy pasta sauce is a skill that every amateur chef should have. And once you have a few recipes down, there are so many more you can introduce into your cooking repertoire.
And if you have a gluten allergy, you can substitute gluten-free pasta or vegetable pasta.
For an all-out Italian feast, check out our classic Neapolitan pizza recipe!
I might receive compensation if you make a purchase after clicking an affiliate link at no cost to you.