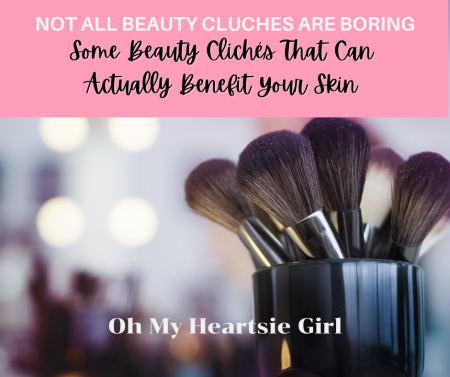 Not all clichés are boring. Some of them need to be repeated as many times as possible to prevent people from forgetting. For example, we all know that we should wash your hands before every meal. It is a cliché that saved maybe thousands of lives during the pandemic. Similarly, there are beauty clichés that help keep your skin in perfect condition.
Let us give you an idea about those.
Too many chemicals can harm your skin
Now, we have heard this one so many times that it has become the commonest of all beauty clichés. But there's no denying that it is 100% true. Excessive use of consumer products loaded with artificial materials, like fragrances and preservatives, can do more harm to your skin than good. They may give you some immediate results, but the side effects will show on your skin later. There is no shortcut to anything, so go the natural way to get beautiful, radiant skin.
Green veggies and fresh fruits help preserve your natural glow
The food you eat has a tremendous influence on the largest organ of your body- your skin. Fruits and vegetables rich in vitamins, amino acids, and antioxidants help reduce skin inflammations, psoriasis, and acne issues. Without these problems, your skin retains its natural radiance and helps you look younger. A regular shot of chlorophyll, present in the green veggies, also stimulates the lymphatic system and keeps your skin hydrated at all times.
Moisturize your skin twice daily
Another skincare hack that beauty bloggers, dermatologists, and even the salon experts keep giving you. You need to keep your skin moisturized always. The best time to do that is the morning, after a shower, and at night, after removing the makeup.
Choose a simple, non-abrasive moisturizer, which can be used regularly, and apply it gently on your face after cleansing it thoroughly. You can also opt for homemade moisturizers, like coconut oil or Aloe Vera gel to get the same effect.
Apply sunscreen whenever you go out
While Sunscreen are essential on sunny days, you should apply them every day, irrespective of the weather conditions. Yes! That means even in the winter season. It protects your face not only from the harmful UV rays of the sun but also from aging issues, wrinkles, and dryness. It is an essential step of skincare for all skin types and ages. In fact, a broad-spectrum sunscreen can help reduce wrinkles and fine lines so that you may catch some eyeballs with younger-looking skin.
Increased stress and anxiety can speed up the aging 
The stressed people look older, no matter their age. It is because stress and anxiety have a direct impact on your body, which is visible from your face. It also hampers your sleep routine that leads to puffiness and black spots around the eyes. To keep your life stress-free, you should work out and meditate regularly. Take some time out to practice simple exercises that help flush out toxins from the body in the form of sweat.
Follow a healthy sleep routine
All those long hours at work will show on your face if you do not get proper sleep every day. Maintain a healthy sleep schedule to keep aging issues at bay. And although this is a cliché, it is a useful one. The people in the beauty industry, as well as skincare professionals, will tell you how important it is to sleep for at least 7 hours at night. No wonder it is called the 'beauty sleep'.
Remove your makeup before going to bed
Even if you are too tired to go to the washroom and get a shower, make it a point to remove your makeup before going to sleep. Use the right makeup-removing products, cleanse your face thoroughly and apply a moisturizer after wiping it dry. Do this religiously, or you will regret it. From clogging your pores to giving rise to acne, the notorious makeup residues can cause several skin issues.
Protect your face from dust and pollution
There is no dearth of toxic substances present in the air. You need to protect your face from them every day when you go out. Cover the exposed areas of your face with a scarf or wear an anti-pollution mask. Put on a pair of shades to protect the skin around your eyes. These harmful substances in the environment can cause allergic reactions on the skin, besides breaking down collagen and giving rise to inflammations.
Beauty is synonymous with health. If you have a healthy system, it will show on your face. Go natural and cut down on the use of chemicals. However, it doesn't mean that you should not put any makeup on your face. Use the right materials and buy only industry-standard organic products to minimize the negative effect. And do not ignore the clichés. It is hard to keep everything in mind, so repetitions are necessary.
Related:
How to Buy Beauty Products Online Important Tips to Follow