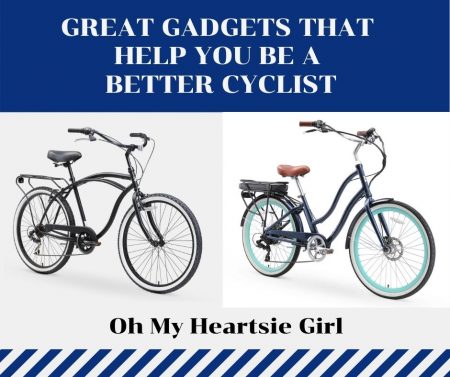 Cycling is a sport that just about anyone can enjoy. It gets you outside in nature to see the world around you. You can take a break from your devices and clear your head. Even the best electric bike can benefit from accessories and gadgets that increase your safety and pleasure when you're out for a ride.
Sigma Pure 1 Computer Wireless ATS
If you've ever wanted to track your speed on your bike, this computer attachment is for you. Mount this on your bike. It attaches to the tire and monitors your speed, your distance and your time. It's wireless technology that gives you more information whether you're riding for pleasure or exercise. The gadget is affordable at under $50 and is available at the same place where you can find a fat tire electric bike for sale.
Zefal Handlebar Mount Spy Mirror
Mirror mounts give you more information while riding to see what's coming up behind you. This mirror mounts on your handlebar and is adjustable to your riding style. It fits on any handlebar, on either side. Having a wider view alerts you to potential situations anywhere you ride.
Car Rack
Being able to take your bike somewhere new to ride can help you stay motivated and energized. Look for a rack that fits all types of vehicles, so when you upgrade your car or use a friend's car, you have more options for riding. You'll enjoy taking your bicycles on vacation or when you go visit family to keep exercising.
Park Tool WTK-2 Tool Kit
Even casual riders will experience a flat occasionally. This tool kit includes pre-glued tire patches, a screwdriver tool, tire levers and emergency tire boots to get you out of a tight spot. The tools come in a handy pouch that won't take up much space on your bike or belt. You'll be able to make minor adjustments and simple repairs to get you home.
Drink or Cup Holder
Whether you're riding for sport or pleasure, you want to stay hydrated. If your bike doesn't have an attachment for a water bottle, you can find universal cup holders that mount to your handlebars. Kroozie makes a large selection of cup holders that hold a soda can or small water bottle while you're on your bike. If you plan to ride for a long time, add a rear rack or a pannier that can hold a small cooler to carry more water with you. You'll be glad for the storage space if you do a lot of riding.
Wireless Speaker
If you enjoy listening to music while you ride, a speaker that attaches to your bike is safer than headphones or a headset. You'll get hours of playtime from one charge, but you can still be aware of your surroundings. Find a speaker that plays music from a Bluetooth but get a phone holder for your bike to keep your device secure instead of putting it in your pocket. Phones can easily fall out of your clothes and make you hotter while you ride.
Browse a selection of women's electric bikes for sale to find the bike that helps you get out in nature and enjoy a ride.
[…]
Cheap Bikes For College Students (Insider's Guide)
Electric Bikes for Women
This post contains affiliate links, which means I might receive a small commission,