Summer comes with all good things, but most especially it comes with heat. That's one thing that summer is quite known for, and in the midst of this blistering heat comes a factor that cuts deep into our very lifestyle. Lets learn How To Take Care of Hair In The Summer
The sun in summer is notoriously known for its super shine and its fierce attitude. To almost everyone, summer is known as the season of bad hair days.
The question therefore arises, how do you take care of hair or hair extensions in summer? Is there a special technique that can be used? Is there any solution to avoid a bad hair day during summer? All this and many more questions arise and you've sorted out to find a solution to it.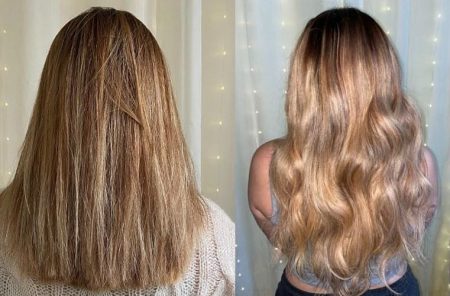 Ta-da!!! We're here to the rescue with exactly what you need. We'll be giving you tips on how to take care of your hair this summer, and with some extra tender loving care, we are sure that we will help your hair look great even on the most blistering summer days.
Trim your hair for summer: You're surprised that the first tip on our list is to get a trim cut, right? Well, you shouldn't be. Trimming your hair for the summer helps you get rid of split ends and helps you to improve your style. It gives you a new refreshing look. Here's a top secret from the hair industry, hair grows faster in the summer. This is due to the fact that there are more hairs in the developing stage (anagen) during summer or late spring than in winter. So, start off your summer with a nice trim for looks and for healthy hair.

 Use UV filter hair care products on your hair: Before going out into the summer sun, always apply hair care products which contain UV filters, this helps protect your hair from getting damaged from the sun, and if your hair is color treated, it protects it from fading, brassing and bleaching. It also helps protect your strands from getting fired and losing all its nutrients as well as protects your hair scalp from being vulnerable to skin cancer. You can always use a wide-brimmed hat also if you're going to be spending long hours under the sun.

 Don't use hot tools: Hot tools will only add more damage to your hair when used during summer. Avoid them totally and if that is not possible, make sure to give it an interval and seldom use. Instead of going for the blow-dryer, you can always air-dry your hair. As for the flat irons and curling irons to give your hair waves and curls, you can always plait your hair into a ponytail, braid or bun and sleep with it overnight, by morning when you loosen the plait, it'll present you with heatless natural curls and waves.

 Don't go swimming unprotected: Pools and saltwater are accomplices of the sun and they commit the greatest crime of killing off your hair. Before you take a dip into the saltwater or pool, immerse your hair into leave-in conditioners, and immediately you're done with your swim, shower with fresh water. This is called the before and after preventive measure.

 Use moisturizing shampoos and conditioners once a week: Wash your hair regularly but desist from using shampoos and conditioners regularly, while they may be good for your hair in removing the dirt and oil build up in your hair, too much of it will strip off your hair of its natural and essential oils. Go for a sulfate-free, anti-residue, color-safe and clarifying shampoo once a week to clear off all chemical and oil and product build up in your hair. Follow it up with a deep conditioning treatment to complete your tender loving care on your summer hair.

 Frizz control: Do yourself some amazing wonder by controlling the frizz in it. How do you fight frizz and summer at the same time? Very easy, combine them together and combat them by making your hair healthy and nourished.                                                                                                                                                                                                                                                                                                                   Make use of natural nourishing oil to keep your hair frizz-free and leave it quite light. After trimming, conditioning and protecting the hair from UV filters, make sure you finish it up with oil, serum, and hair masks treatment to keep it looking smooth, healthy, shiny and well maintained all summer.

The summer sun damages the skin, it can also damage your hair too. These tips will keep your hair from being cooked or fried by the ultra-violet rays of the sun. They will also keep your hair from becoming and feeling faded, brassy and bleached. Here's to a heat-free, and good hair days summer.

[…]
Related:
Tips On How To Dye Your Hair At Home

I might receive compensation if you make a purchase after clicking an affiliate link at no cost to you.