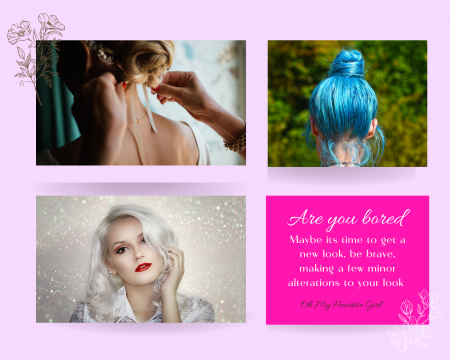 Sometimes you need more than a funny internet video or a good cup of coffee to cheer you up. You're not miserable, just bored and maybe a little restless. If you feel like life has settled into a tedious routine, you might benefit from the personal equivalent of a spring cleaning. A little tweak to your personal style could mean that you get a bit of an uplift every time you look in the mirror.
Look to Your Locks
As many stuck-in-a-rut people have done for generations, you may reach for the tried and true spirit-lifting update of a new hairstyle.  Color and cut are the two factors most people play with. Maybe now is the time to go bold with a color you never dared to try before. With today's temporary color products, you could even go for a wild rainbow or pastel shade without too much risk or commitment. Also, keep in mind that getting a chop isn't the only way to give your hair a new length and shape. Clip in extensions are proof that you can get a significantly different look without a major commitment. Even if you're feeling really adventurous, this could be the time to explore the wonderful world of wigs!
Making Up Is Fun to Do
If you're one of those people for whom makeup is as much about fun as it is about grooming, a refreshing change could be as close as your local drugstore's cosmetics aisle. It's always a little bit of a thrill to pick up your favorite lipstick or that mascara that never fails you. When you're looking for a real pick-me-up, however, your best play is to color outside of your usual lines. Forget whether your skin tone is "autumn" or what shadow "brings out" your eye color. Grab something silly or shocking that seems to call out to you from the shelf. Give yourself a laugh while giving yourself a makeover, and you may just discover some new favorites.
Time to Play Dress Up
Investing a little time and money into your wardrobe can help boost your mental resilience in more ways than one. Buying a quality garment that's a bit fancier or more expensive than your usual clothes can boost your confidence or inspire your ambition. On the other hand, a colorful top or sassy shoes that are a break from your boring workwear can be a needed reminder that there are many facets to your personality. Newness is the point of this pursuit; why settle for just a new garment when you can go for a whole new style?
Of course, you feel good when you look nice, but that's not the end of the story. Making a few minor alterations to your look may seem like a frivolous way to boost your mood. The frivolity is actually the point; when you're just feeling a little dreary and bored, all you need to brighten up may be a small change that's infused with humor and fun. That's the reason that a new dress, lip color, and haircut will always be reliable ways to pump up your attitude as well as your appearance.