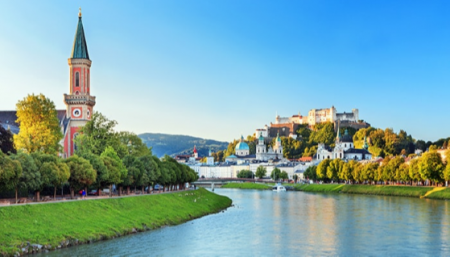 Salzburg is a beautiful city and if you are looking for a nice getaway from Vienna, this is a nice choice destination. It is just over 200km away and there are many ways to get there. You can drive, take a train, or even fly there. Each of these depends on your reason for traveling to Salzburg. To make your travel smooth and fun, here is what to consider when traveling from Vienna to Salzburg. 
One of the main consideration factors should be your reason for travel. If you are traveling for fun, then you should probably consider driving. There are lots of fun activities you can engage in and maximize the utility of your journey. You may also consider taking a train and enjoy the scenery as it zooms past the windows. On the other hand, if you are traveling from Vienna to Salzburg for a business meeting, then you should possibly consider flying there. The air transport infrastructure is nice, and you will save on time. It is also the nature of travel that will determine what you will pack for the journey. If you want to go on an adventure, you may decide to carry a backpack with a sleeping bag, and other outdoor gear. Salzburg is at the edge of the Alps and you can enjoy an amazing stay at a mountain site. On the other hand, if you are going there for business, then all you need is to pack your essentials and book a nice hotel. 
 Salzburg is a top tourist destination in Europe, which means it is not a cheap city to travel to. As such, you need to come up with a good budget beforehand. When planning your budget, there are several factors you need to consider. One of them is the duration of stay. If you plan to spend some time in Salzburg, then you need to have a budget for hotels and meals. There are hotels for every budget in the city, and what you go for is fully dependent on your needs. If you are a foreign tourist looking to travel to Salzburg, it would be wise to have some extra money in the budget, over and above the amount you estimate that you will spend. The last thing you want to do is to run out of money while in a foreign city.
Before you travel to Salzburg, try and understand a few things about the place such as language, and mannerism. For a foreigner, consider learning a few German words, as German is the official language in Salzburg. While most people in the city understand English, it is polite to understand a few German words and use them to address the locals. You also need to know the local culture when tipping waiters in hotels. Just like in Vienna, and other European cities, it is polite to tip about 5% of the total bill if you loved the service. Such small gestures can help make your stay in Salzburg much more fun. 
[…]
Have a Safe Trip: 10 Essential Tips for Women Travelling Abroad
How To Plan the Perfect Family Vacation 
Cities Less Traveled