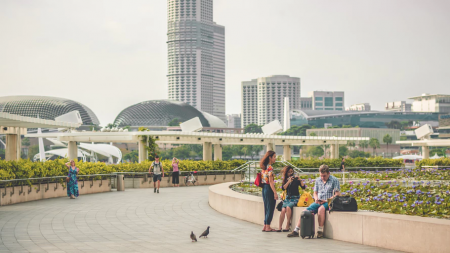 Are you planning to visit Singapore as a tourist? You are about to unravel an island full of intriguing natural and man-made features, tranquil beaches, rich history, and cultural diversity. Singapore is also an interesting business hub, so you will enjoy buying a variety of items in world-class business centers and shopping malls. One last thing that you will enjoy is the incredible architecture of the entire city of Singapore and much more.
However, it is worth noting that the Lion City is very strict with immigration procedures. They are not willing to grant a visa to anyone who has not qualified for it. But on the other hand, this is one of the few states in the world that has a straightforward process for getting such documents.
Start the Process Early
Doing things at the last minute is not always the best thing. If you are planning to acquire a Singapore visa for you and your family, the process should start early. The good thing with this is that you will have enough time rectify any problems that may come up. One thing to remember is that the Singapore immigration department has the ultimate right to give or deny a visa to anyone if they have compelling reasons for that.
Online Application
Technology has been so much help to the world today. The Singapore immigration department has some services online so that people who are eligible can apply there. These include nationalities from states that are eligible for the Singapore e-visa, which can access them from any part of the world. But if you are from the visa-exempted countries, then there is no need to make the application. Others may need to use an authorized visa agent to help you in processing the Singapore tourist visa.
Seek the Help of an Agent
Singapore has several authorized agents that you can access from any part of the world. They are connected to the immigration department and already know all of the procedures that they are supposed to use to apply for the tourist visa.
So, if you are looking for the best Singapore visa services, these are the professional experts to use. They will guide you on how to fill out the forms and after that, they will deliver them to the immigration department together with all other documents that need to be attached.
Pay and Wait
Whether you use the Singapore e-visa platform or an agent, there is a processing fee of $30.00 SD. For those who are using the agents, this may go higher because they also include their consultation fee. Be prepared with all of the needed money so that things will go smoothly, especially when time is limited. As you will need to do is wait for a response from the immigration department.
Conclusion
Singapore tourist visas are easy to get and people will rarely be denied one. The state encourages tourism by making this process easy and straightforward. So, there is no need to panic because gross misconduct is usually the main reason why you can be denied the visa.
related:
Have a Safe Trip: 10 Essential Tips for Women Travelling Abroad
Travel Series: How to Make Sure You Don't Miss Your Flight
10 Tips You Must Do Before Traveling
I might receive compensation if you make a purchase after clicking an affiliate link at no cost to you.