source
If 2019 was the year of self-love and self-care, then this year will be all about self-acceptance and confidence. Being older than 50 can be challenging at times, but it also has its perks. One of the big challenges comes from deciding on how to wear your hear on a daily basis, and unfortunately, many women tend to make various mistakes that make them look older than they really are. Of course, every woman should be proud of her age, but also, there are ways to make yourself look graceful and beautiful, and choosing the appropriate hairstyle can help you a lot.
So for that reason, here are best hairstyles for women over fifty that will make you look younger:
1. You don't need to go short when you get older
source
There is a belief that women over a certain age shouldn't wear their hair long, and even though that seems logical from a certain perspective, it also doesn't mean that you automatically have to chop off your locks in order to conform. Sadly, a lot of women tend to forego longer and more interesting hairstyles as soon as they turn 50 or so, which is a shame since there are plenty of mid-length hairstyles that can look good on women of all ages. Now, wearing traditional hippie long hair might make you look older and unkempt, but there is no reason to grow a few inches if you feel like it. The main point is to keep your hair in a good shape and trim it regularly so you won't end up with split ends.
2. Consider getting a bob
source
Bob is a very versatile hairstyle, so feel free to experiment with different ones until you find what works for you. For example, a Cleopatra bob is a great choice for those who love regular visits to the hair salon, as it gives you a professional and elegant look, while those who prefer shorter hairstyles can opt for an inverted bob which was popularized by Victoria Beckham back in 2007. If you want a perfect balance between short and long hair, then wearing a bob can be the right choice for you.
3. For fancy events, wear an updo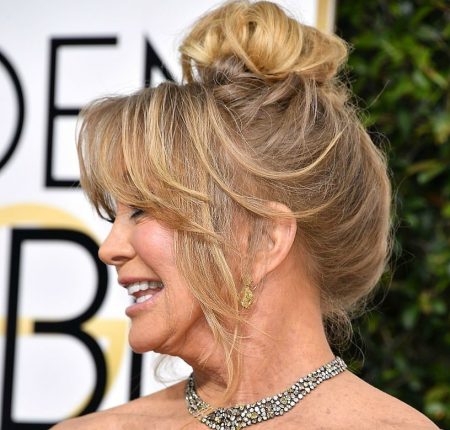 source
An updo is a wonderful hairstyle for fancy events that require you to be stylish and elegant. There are a lot of buns to choose from, but keep in mind that you don't need to have long or thick hair to wear one. If you're longing to get your hair in an updo, consider getting seamless clip in hair extensions for thin hair that will instantly give you rich luscious locks perfect for an elegant bun. Of course, be careful and make sure to get extensions that go well with your hair colour.
4. If you really love short hair, then go for a pixie cut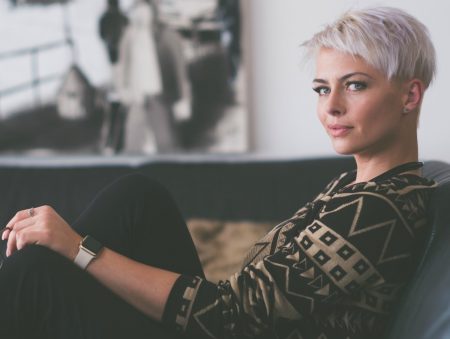 source
It is well-known that women over a certain age tend to favor short hairstyles, but let's be honest: they're quite practical and easy to maintain. The pixie cut is probably the most popular short hairstyle, for a good reason: it is versatile and can be worn even if you have curly hair, which is always a plus. So, if you truly love short hairstyles, feel free to get a pixie cut, and in order to spice things up, you can dye your hair platinum blonde, pastel pink or misty lilac. Opting for a slightly unusual hair colour will surely make you look and feel younger.
5. You can never go wrong with a lob and side-swept bangs
source
Lob, or long bob as it is also known, is a great solution for women who wish to have long hair but aren't ready to take care of it on a regular basis. Besides, a lob with some side-swept bangs is a great idea, since it's modern and suitable for all ages. Also, if you're someone who loves bangs but can't commit to trimming them every other day, then side-swept bangs are a perfect replacement, so with these types of bangs they can be pulled away from the face while still being there to add something special to your hairstyle. This will surely make you look younger, especially if you decide to use a curling wand to add some glamour for fancy events.
Final thoughts
Next time you're making an appointment in a hair salon, feel free to consider one of these hairstyles as they will definitely make you look younger, more modern and stylish. In case you start doubting your decision, just remember that being of a certain age should never stop you from wearing your hair as you please.
[…]
The Most Feminine Hairstyle Glossy Hair Locks
The 5 Seasons of Your Hair
5 Styling Tools Every Woman Needs
This post may contain affiliate links and I might receive compensation if you make a purchase after clicking on a link.


Get 2 Free Bonus Gifts with Purchase of Keranique's Clinically Proven Hair Regrowth Product!