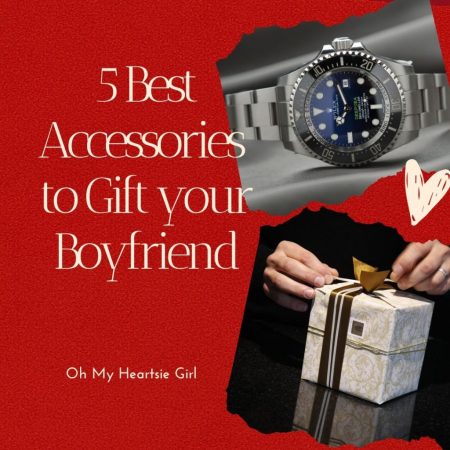 Buying a gift for your boyfriend can be a bit… let's just say that it can be a hard time. Especially if you've been together for quite some time now, it seems like you've gifted him with everything that you could possibly come up with.
Socks – check, underwear – check, anything that almost everyone else you come up with – check. It really does takes out of the box thinking to come up with something interesting and really surprise him.
So, let's go over our top five accessories you can buy for your boyfriend as his next gift.
And we kick the list off with bow ties.
Bow ties can be a bit quirky, we admit. But they're also an awesome gift. Like, most men don't have a selection of bow ties in their wardrobe. But they're also an amazing way to add a twist to his go-to style.
Admittedly, bow ties are a bit of a statement piece by themselves, so you'll have to make sure your boyfriend can pull the look off.
We'd advise you to stick to a simple black bow tie if he has to attend black-tie events often. If this isn't the case, go with something quirky that can go well with jeans.
What list would it be if we don't include a timepiece?
While there are a lot of good companies nowadays that offer okay quality watches at around the $100 mark price point, buying him a mid-range timepiece is what we're talking about here.
Omegas are a great mid-range watch, and even though they can run a bit expensive, gifting a watch should be done for special occasions only. Somewhere around $2,000 to $5,000 should be a good price mark for a quality timepiece.
And if you don't want to spend all that money on a watch – go for a bracelet.
Bracelets are an awesome way to gift something inexpensive, but still, keep the uniqueness of the gift.
For guys, we'd stick for metal and stone, as the natural rigidity and masculinity of the materials can fit the style of almost any guy.
If you choose stone, go for gemstones as they all have their meaning of their own, which means you can really customize the meaning of the gift.
But sunglasses can also be a great choice!
It can be a bit of a risky choice, but sunglasses can be an awesome gift if you know your boyfriend's face and what he likes.
Think about what he needs and get him a pair that he would truly enjoy. Maybe something more under the radar to wear with a suit? Or something more casual, like a tortoiseshell frame, is an awesome choice.
And finally, why don't you get him a custom ring?
Rings have been picking up lately with more and more guys embracing the trend.
But instead of buying him something, go to a jeweler and get him something custom made. Think of silver and gold and pick a couple of designs you like before you go to the jeweler where you'd pick and match the different designs to create something unique.
Choosing a gift is always a hard thing, but having ideas in mind will make it easier for you.
[…]
5 Best Accessories to Gift your Boyfriend
Wooden Watches: 10 Engraved Watches From Lux Wood
Looking Your Best: A Fashion Accessories List for the Well-Dressed Man
How Should Your Man Wear A Watch To Stand Out From The Crowd

This post may contain affiliate links and I might receive compensation if you make a purchase after clicking on a link.