So I was reading an interesting article the other day and about glass containers and I decided to look into it because we have so many different glass vessels that are used in so many different ways, think about it. They're probably all over your house I know they are in my house, including ones used for crafts, we paint them we put decals on them we decorate them and we put them on display. That's a great way to upcycle.
How many glass containers could you count in your home right now? I know my coffee maker has a glass carafe and I have juice containers, storage containers, candles and all of the bottles that food products come in and then shaker flasks that are used for making salad dressings with olive oil and vinegar or even all those mason jars for food storage.
Originally shaker flasks were created for science labs and testing facilities and other industries and come in all sizes for testing products in labs. But today as you can see they can be used for a home decor project.
Next time your shopping take a look at all the products that come in glass containers at the grocery store. Everyone is worried about plastics and recycling; it got me to thinking about recycling, but they don't make much fuss about recycling glass as we hear about plastics being used and being recycled.
So I am going to make an effort to upcycle glass with this group of glass bottles I have saved. I found a great article here on Wikipedia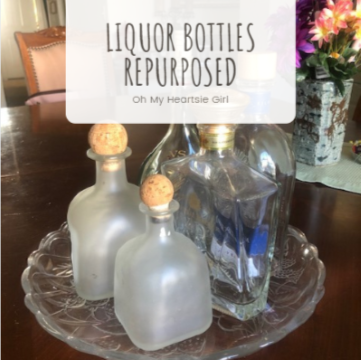 What kind of glass recycling have you made, do you have ideas?
[…]
Zen Your Home Out With These Gorgeous Decorating Ideas
This post may contain affiliate links and I might receive compensation if you make a purchase after clicking on a link.