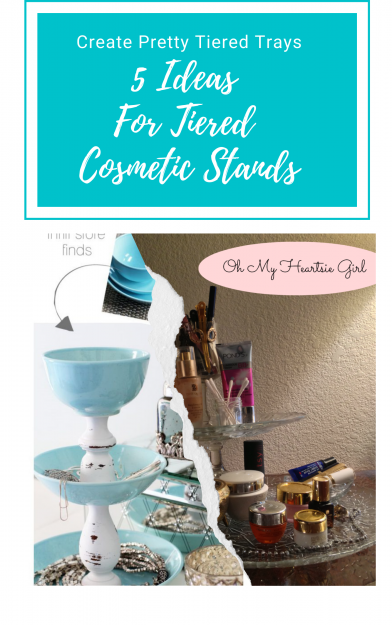 Create pretty tiered trays using wine glasses, cups and plates for displaying trinkets in your home. A rewritten post from 2013. I was looking on Pinterest and found cute stacked cosmetic trays, I had craft moment making an Up-cycled Makeup Stand , as a craft project and a need to organize my makeup.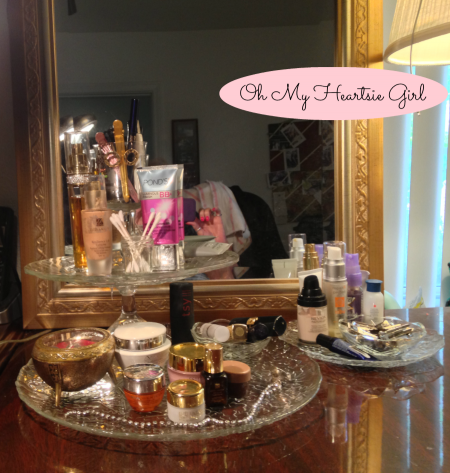 As I visit Pinterest, (a habit I have) and I'm sure others do too, I found some pretty makeup organizing ideas and remember finding a book at the library that was full of ideas using dishes you already have at home to make serving trays and the like with just hot glue. Or if you want it to be permanent you could use UV6800.  I wish I could find that book again, that was about 10 years ago.
You can actually make temporary tiered trays, then put them in the sink with hot water and remove the hot glue, put them away for another day and creative moment when you need something fun or pretty.
A lot of my inspiration came from photos on Pinterest
3 glass plates, 2 tall shot glasses from PierOne and blue marbles (Christmas Tree Store) to make a pretty makeup display.  Just use a hot glue gun to secure them all together and you have a stylish way to display and organize the makeup you use every day.
Artsy Chick Rules // A pretty 3 tier tray made for jewelry. Using old plastic plates, glasses and chalk paint and E-6000 adhesive.(Use outdoors as there are heavy fumes). I sealed the entire tray with a Pearl Coat Spray Paint.
Crafivity Designs // So simply but elegant. This one as you an see if for jewelry.
A fun idea that comes from Craftivity Designs for a simple and inexpensive jewelry tray inspired by none other than…Kate Spade with all the cute plates they create.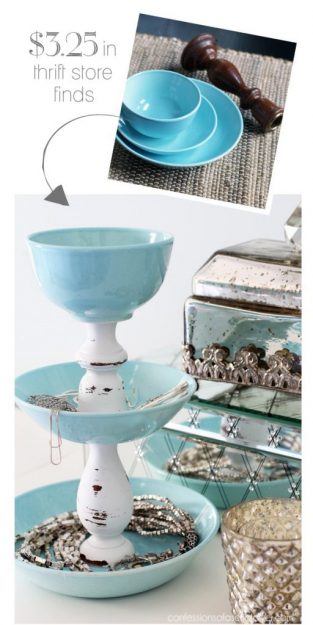 Confession of Serial Do-it-Yourselfer  // Making the jewelry tower with thrift store cups, saucers and plates including some candlesticks for the pedestals.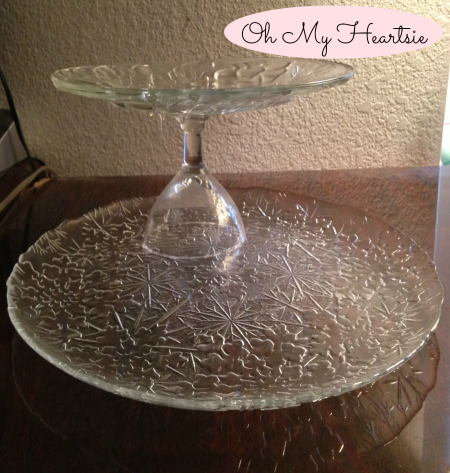 I went to the thrift store and found 3 plates and 2 wine glasses, but when I got home and started working with the space I had to use on my desk, I decided on just using 2 plates with the one wine glass.  To have more surface area on the bottom plate, I set the wine glass to the back.
This way I have access on the bottom for larger items.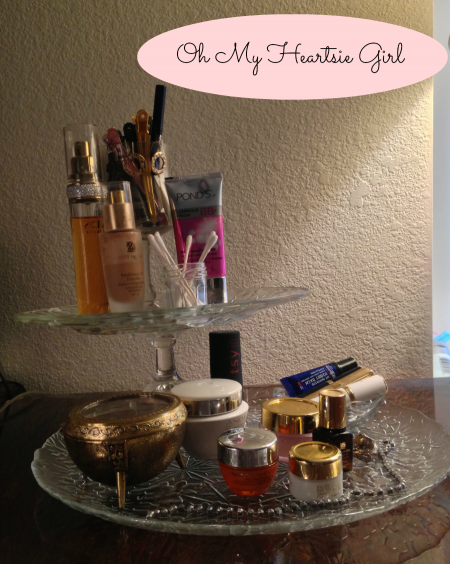 The project took me all of 5 minutes, once my hot glue gun was heated. If you would want your pieces to be permanent you could use an art glue like E6000 Craft Adhesive, 3.7 Fluid Ounces ( available in craft stores).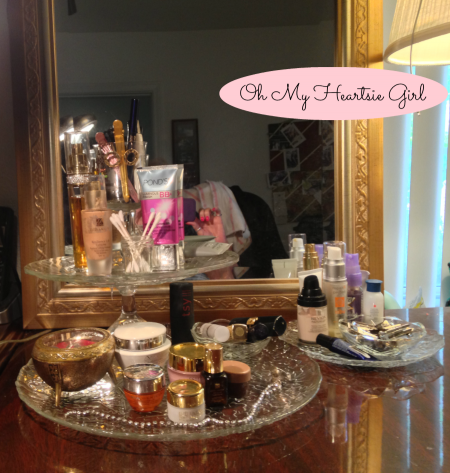 I have seen so many great ideas but I wanted something simple and elegant at the same time. There are so many possibilities with glass plates, wine glasses, candlesticks, bottles, cups, dishes and plates. They can be white, clear, patterned, faux silver platters or any combination including wood of course or all the new tinware you can find.
I have seen the cutest serving trays made stacking plates and cups for parties that are disposable.  I would love to see polka dot dishes made into a tiered stand. The possibilities are endless!! It would be great for creating one for cupcakes or Petit fours or small desserts for parties. Any kind of dishes that you can stack and that would be stable could work!!
What dishes do you have you could use right now to create something fun.
All you need are a few dishes, odd wine glass and a hot glue gun and or the the E6000 230010 Craft Adhesive for a permanent cement
There are so many possibilities you can see in the Pinterest Board. Use melamine dishes, summer prints, or even at the holidays very inexpensive plastic-ware could be used.  Leave it to your imagination, what would you create? 
Have you seen these kinds of serving/stands created?
What kind of ideas do you have?
I entered the Craft Challenge and added this project to the Craft Challenge over at Redoit Yourself Inspirations