Summer may be some way off but the bright skies and spring sunshine give us reason to be excited. We're all guilty of longingly looking back on the heat wave of last summer and we hope that we'll be gifted another one this year. Let's talk skin care for summer.
However, for all of the joy that summer can bring, it can play havoc with your skincare routine. The dangers of UV rays to the skin are well known and the sun is proven to cause wrinkles and aging spots.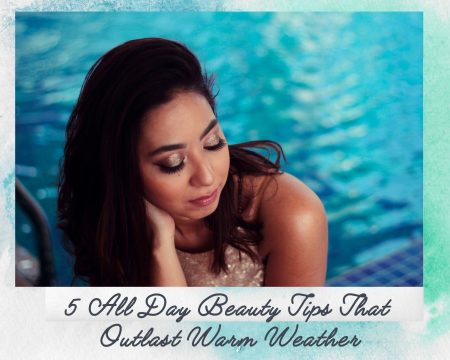 Our summer diets can also leave us bereft of that healthy glow – those warm-weather treats such as ice cream can be hard to turn down. Plus, we all love a good juicy hamburger at the barbecue, and who isn't guilty of a tipple or two in the beer garden? With this in mind, take note of some all day beauty tips that are sure to outlast warmer weather.
Sunscreen is paramount
Regardless of your beauty routine; it's crucial to keep sun protection at the forefront. If you want to continue to wear makeup throughout the season and keep it looking fresh, be sure to start off with sunscreen, prior to applying foundation and concealer.
That said, we concede that when dealing with hot temperatures and humidity, such a makeup routine can feel like a daunting task. Keep things to the bare minimum and ensure that your product list is simple. Choose a cruelty-free mineral foundation with a decent SPF level – a rating of 20-50 is highly recommended. Protection from the sun and your makeup base combined!
Look after your hair
Swimming can make for the ultimate summer workout, and even if you're not big into exercise, the pool can still make for the perfect place to cool down. However, the chlorine can also seriously damage your hair. Before you get into the water, comb sunscreen through your strands and this will form a barrier that prevents chlorine and salt water from stripping your colour and drying out hair. With a little SPF your hairdo will easily outlast the warmer weather.
Cream eye shadow over powder
Ditch your eyeliner and favorite shadow palette and pick up a cream eye shadow instead. A complicated look such as the smoky is sure to be disastrous when it's warm outside. However, this doesn't mean you can't opt for a bold and streamlined look – a single shade of cream eye shadow can help to achieve this. It is designed to stay in place for hours; simply swipe it on and forget about it without worrying about muggy conditions ruining all of your hard work. 
Waterproof mascara is your new best friend
Wearing waterproof mascara on a daily basis isn't recommended as it can seriously dry out your eyelashes. But if you're heading to the seaside or poolside and still wish to add a little something to your look, waterproof mascara will cling to your lashes and stay in place all day.
Don't skimp on the setting spray
Setting spray is far from a marketing gimmick from makeup brands but is actually a pretty viable addition to your make-up routine, and even more so during summer. Setting spray specifically exists to ensure that your makeup lasts as long as possible – let's be honest, on a summer's day, you're going to need all of the help you can get. A light mist of setting spray will prevent your efforts from going to waste.
Related:
Tips for Being a 'Cool' Mom Even in the Summer Heat
How to Buy Beauty Products Online Important Tips to Follow
5 Beauty Resolutions You Should Make For 2019
I might receive compensation if you make a purchase after clicking an affiliate link at no cost to you.