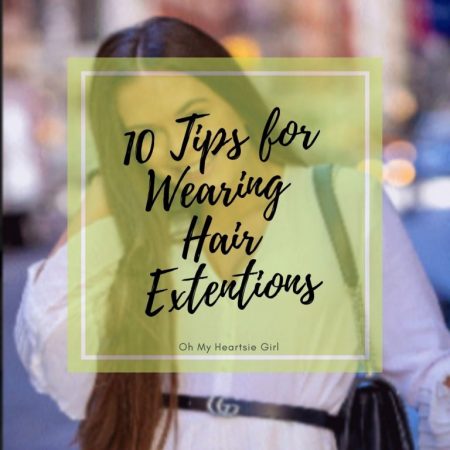 Ah, hair extensions. They can be tricky, huh? If done right, they can give you that extra volume and length that you've always wanted (think Chrissy Teigen and Jennifer Lopez). But if done incorrectly, you can end up turning heads for all the wrong reasons (I'm looking at you, Britney Spears and Victoria Beckham).
Managing hair extensions takes an investment of money, time, patience, and knowledge. That's why we've come up with a short guide to make your hair extensions look good and last longer. Read on for dos and don'ts that can keep you from experiencing a hair fail.
DO buy hair extensions from a reliable store
There are thousands of online and physical stores that sell hair extensions. You need to find one that sells a 100% original and high-quality product. Let's say you are looking for Remy human hair extensions (which, by the way, is what you should invest in because, with proper care and maintenance, they can look good for years). Purchase from a store that has outlined what to do in case of returns, exchanges or refunds, or one that has a money-back guarantee.
DON'T purchase the wrong hair color
You don't want someone to walk up to you and say, "Yep, this is where your hair ends, and this is where the extensions begin." Go for a completely natural look. That means you have to choose the color of your hair extensions carefully. Online hair websites like Rubin have gone the extra mile to help you make the right choice. Just take a photo of your hair, send it to the company via WhatsApp, and they will send high-quality human hair extensions that match your real hair.
DO wash before your first wear
Hair extensions straight out of their packaging have a glossy finish to them. It's not easy to recreate that same shine with your own hair. Do a quick sulfate-free shampoo wash of your hair extensions before you wear them for the first time. Make sure you let them air dry completely before use.
DON'T sleep with hair extensions
This applies to temporary extensions like clip-ins and halos. At the end of a long night, the last thing you want to do is get all up in your hair. But just as you have made time to cleanse your face before you sleep (please don't sleep with the day's gunk on your face), add a couple of minutes to your routine and take out your hair extensions for the night. For the semi-permanent and permanent hair extensions, do a loose braid or bun before hitting the hay.
DO be gentle when brushing
Hair extensions tend to tangle easier than your natural hair, so brushing regularly during the day is a must. Invest in a brush with natural bristles that are specifically designed to easily glide through hair. A wide-toothed comb is also a good option. Always start from the tips and work your way upwards, being careful not to pull or tug the hair as you go along so as to limit hair breakage.
DO give your hair a trim
Yes, even hair extensions can do with a trim, especially if they have blunt ends. It is advisable to seek out a professional stylist who can give your extensions a dry cut. This helps the hair extensions to better blend with your natural hair.
DON'T go crazy with the heat
Sure, you can blow-dry, curl and flat iron your human hair extensions, but keep it to a minimum. Human hair extensions can get split ends and break, just like your own hair. Reach for the heat protectant first before you go for the curling iron. Keep the heat at around 350 degrees Fahrenheit to reduce the chances of heat damage. Keep the heat away from the base of your extensions as heat can cause some bonds to melt and loosen.
DO visit a professional
YouTube hair tutorials are great. But not everyone can follow them well. Plus you never know how much help the YouTuber has behind the scenes. That's why we recommend visiting a professional hairstylist when installing or taking down your semi-permanent and permanent hair extensions. If you've spent hundreds of dollars to purchase high-quality human hair extensions, then make sure they are installed and removed by an extension professional so that the hair is not unnecessarily damaged.

DON'T wear hair extensions for too long
Just because the hair extensions can be worn for up to 8 weeks before you reinstall them doesn't mean that you should push it all the way to the 8-week mark. Observe your hair and use your judgment. If the hair tapes or keratin bonds have noticeably slipped away from your hairline, or the hair is starting to look dry, dull and lifeless, then it's time to book an appointment with your stylist.
DO let your scalp breathe
Every now and then, take a break from the hair extensions and give your scalp and natural hair a chance to recover. Otherwise, you run the risk of developing thinning hair and bald patches at an early age due to the constant strain on your natural hair and scalp.
Final words…
Hair extensions need to be properly maintained, just like your natural hair (and sometimes they need more attention). With lots of TLC, your hair extensions can stay gorgeous and so will you.
[…]
Amazing Beauty Hair Extensions
Myths About Hair Extensions
Reasons That People Use Hair Extensions
This post may contain affiliate links and I might receive compensation if you make a purchase after clicking on a link.