Everyone says planning a wedding is one of the most expensive investments of your life, but this doesn't have to be true. If you and your soon-to-be spouse are living on the lighter side, you still can have a wonderful wedding while saving money at the same time.
The average price of a wedding can reach more than $27,000. Instead of blowing your savings on a huge wedding, here are some of the best ways you can indulge in a destination wedding — without the hefty price tag.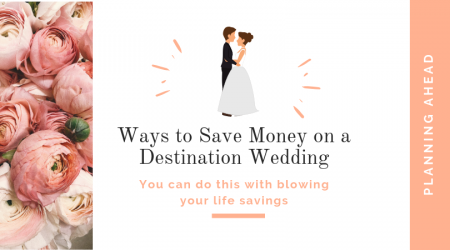 Plan months in advance
Couples usually start planning their weddings around a year in advance but this might mean you pay extra if you wait too long. Planning ahead of time will ensure you get the most affordable accommodations and flights for your destination wedding. Whether you're prepping for a Patagonia wedding or a destination across the world, everyone knows buying tickets early will help mitigate the price.
By planning in advance, this can help you establish a budget that works for you. It will also help ensure that you're able to cover any extraneous costs later on. This is also vital if you plan to help your friends and family with travel costs. After all, not everyone can afford to make it to a destination wedding. Not only does planning ahead help work for your budget, but it also makes things fairer for your guests. Try planning your wedding for more than a year in advance to help everyone save for the future.
Agree on a destination for marriage and the honeymoon
By wrapping your honeymoon and the marriage into one location, you'll save money on travel and lodging alike. As such, it's vital that you plan on a destination you both want to enjoy at a price that works for you.
Because you're going to spend more time on your honeymoon than your wedding, you should choose a location that works for your vacation. Though a romantic wedding in Rome looks good on paper, if you want to indulge on the beach for your honeymoon, this isn't the best location.
Cut down on your guest list
Even though you wanted a huge wedding with all your friends and family, a destination wedding isn't for everyone on your list. By cutting down on your guest list, you'll save money and get to spend more time with each of your guests. One of the worst parts of the wedding festivities is stretching yourself too thin among your guests. By inviting only the people you care about most, you can save money on invitations, food, flights, and more.
Rely on the local beauty of your destination
It might be tempting to buy every decoration for your extravagant wedding, but this will cost you more in the end. After all, you're in an entirely new location. Why not take advantage of the beautiful scenery around you?
Take gorgeous wedding photos on the beach or surrounded by the beautiful local architecture of the city. If you're stuck for ideas, don't hesitate to do a little research beforehand. You can even contact some locals to get an idea of locations not even the savviest tourists know about.
Cut corners where you can
Your wedding is what you want it to be. If you're stuck thinking about the weddings you see in movies or if you're trapped in tradition by your family, shirk expectations to craft a wedding that's entirely your own.
This means you don't have to get a four-course meal for dinner. You don't have to get married in a church if it costs too much. If you're OK with a wedding on the beach or in the park, that's your prerogative. Don't let anyone make you feel guilty for planning the wedding of your dreams.
I might receive compensation if you make a purchase after clicking an affiliate link at no cost to you.

elated:
Ways to Save Money on a Destination Wedding
Top 10 Fashionable Flowers For Your Wedding